The fifth Mangusta 104 REV is in the water: a fast and sporty entry level vessel with the shipyard's trademark style
Mangusta Yachts has launched the fifth unit of the entry level yacht from the Maxi Open range, with iconic sleek lines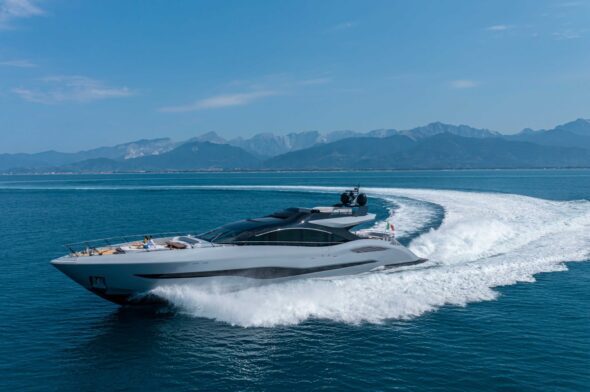 Mangusta Yachts has launched the fifth unit of the Mangusta 104 REV entry level yacht from the Maxi Open range. This is a hull with sporty sleek lines, designed by the internal Engineering Department in partnership with the studio, Lobanov Design, reinterpreting the company's trademark innovative style, in line with the tastes and demands of newer, passionate boaters with a love for speed.
Built in composite material in the Mangusta Yachts facility in Viareggio, the new yacht's propulsion system is made up of two Kamewa waterjets together with two MTU 2600 HP engines, allowing it to reach a maximum speed of 35 knots, with no vibration and maximum comfort. At its cruising speed of 30 knots, the autonomy of the Magusta 104 REV can reach up to 320 nautical miles.
MANGUSTA ICON OF STYLE AND DESIGN
"This model has quickly become like Miami Vice, an icon of design and lifestyle – explains Stefano Arlunno, president of Mangusta Americas – thanks to being able to travel quickly between one port and another and its reduced draught, ideal for navigating in shallow waters. The boat we have just launched is the fifth delivered to the American market alone: showing the great success of the Mangusta 104 REV overseas."
The next unit of the series that has been sold, will be the eighth and will be available for delivery to its owner next year, near the end of November 2024. The Italian shipyard, in the meantime, is ready to present to the public unit number four of the Mangusta 104 REV during the imminent Cannes Yachting Festival, from 12 to 17 September, alongside the Mangusta GranSport 33.