One of the most beautiful pieces of paradise along the Ligurian Riviera, with breathtaking views.
The Cinque Terre, a natural paradise in Liguria, is characterised by five miles of rocky coastlines with two picturesque promontories at either end. A unique characteristic are the thousands of kilometres of dry stone walls and the terraces covered with vineyards (from which is made the famous wine of the Cinque Terre: the Sciacchetrà ), but especially the five small southern villages have remained just like they used to be: Monterosso, Vernazza, Riomaggiore, Corniglia and Manarola.
Visiting the Cinque Terre:
The Cinque Terre have been universally defined as a "work of art" of nature, thanks to its evocative coastline plummeting straight into the sea (not to be missed is the walkway "la via dell'amore – The Way of Love"), with rocks which are often completely vertical, its bays, ravines and the enchanting beaches between the cliffs, and the five small villages Monterosso, Vernazza, Riomaggiore, Corniglia and Manarola which interact perfectly with their surrounding terrain, making the Cinque Terre one of the most unique landscapes in the world.
The Cinque Terre are well serviced by the trains of the Ferrovie dello Stato, with stops in all five of the villages. Another alternative is to travel by sea, using the numerous ferries from La Spezia, Lerici, Portovenere, Levanto and Sestri Levante, or by boat. Cars are best avoided, both for parking and for the extremely windy roads. The best way to enjoy the Cinque Terre is certainly on foot, in the Mediterranean shrub between the sea and the sky.
Visiting the Cinque Terre by boat is possible, but the marine park regulations must be strictly followed.
To drop anchor or find berthing spaces, you must enter the Gulf of Poets. Portovenere, Fezzano and Le Grazie have a number of reliable spaces available.
Tourist Port:
The port is located in Monterosso, in a small marina that can only accommodate small boats with a small draft due to the shallow waters.
Opening Times: continuous.
Access: the marina is located in the National Park of the Cinque Terre and is subject to a number of limitations in zones A-B and C.
Sea floor: sand.
Depth: in quay from 1.20 to 1.50m.
Radio: Vhf channel 16 – C.B. ch. 11.
Spaces: 42.
Maximum length: 6m.
Winds: prevalently SE and S.
Transverse: II and III quadrant.
Lee: from NE – NW.
Nearest Roadsteads: roadsteads of Levanto, Porto Venere and Sestri Levante.
News
Le ultime notizie su Cinque Terre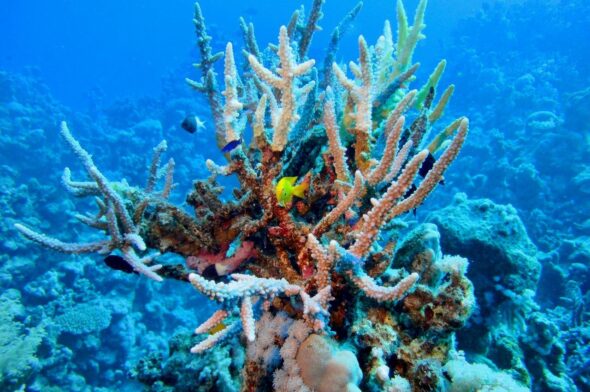 Diving
The news isn't good, even for this incredible and enormous ecosystem
companies
All businesses in Cinque Terre