Ten years of the Naval Tecno Sud Boat Stand: a success story
The Puglia-based company, Naval Tecno Sud Boat Stand celebrates ten years in business. This is the story of their success as told by the owner, Roberto Spadavecchia, a story of basins and boat stands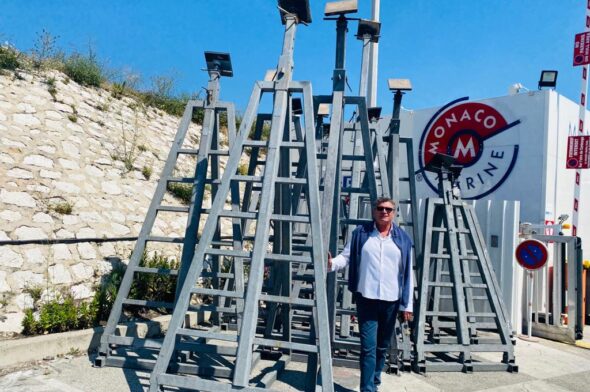 The Puglia-based company, Naval Tecno Sud Boat Stand celebrates ten years in business. A decade of success and innovation in the boating industry, but in a field which is farthest from the water, that of storage on land, and, for this reason, it is even more important and fundamental for shipyards of all kinds.
Indeed, Naval Tecno Sud is a business specialised in the design, manufacture, and sale of equipment for use in shipyards. For manufacturing, they work with a specialised workshop with over thirty years' experience in steelworking, guaranteeing, with their many qualifications, the most reliable products. In addition to basins and boat stands, the Bari-based company also builds scaffolding for dry storage and modular warehouses.
A NEW ENTREPRENEURIAL IDEA
Sharing with us the story of these last ten years is the owner of Naval Tecno Sud Boat Stand, Roberto Spadavecchia, who we interviewed during the last edition of the Cannes Boat Show.
"Before becoming the sales manager for Naval Tecno Sud Boat Stand – says Roberto Spadavecchia – I worked in the fashion industry for 30 years, but the crisis in 2000 that struck the sector, forced me to close my business. At the age of 50 I had to reinvent myself, starting with what fascinated me the most and what I was passionate about: the sea."
This passion pushed Spadavecchia to visit the boating hubs in his city, like ports and shipyards, where he noticed vessels in dry dock, of all sizes, including mega yachts, held up by improvised stands (bins, cement blocks and roughly cut wedges) which did not guarantee stability or safety for the boats or the people working on them.
"The idea that took shape in my mind – he explains – was clear: I was going to work on creating innovative technological products that would guarantee the support and safety of both the boats and the workers. And so I created my very first CE certified stands, which led me to travelling to shipyards all around the world in a van, creating ties of friendship and business, pushed on by my strong desire for sales and success."
THE BIRTH OF THE COMPANY
In December 2012, Roberto Spadavecchia and his daughter Barbara opened Naval Tecno Sud Boat Stand, a company specialised in the design, manufacture and sale of a wide range of equipment for use in shipyards.
Always participating in the most important boating shows of the world, where they are always promoting their products, the company works with engineers on innovative ideas and with a certified workshop, specialised in precision works for the development of stands, supports, basins, wedges, handles, trailers, racks, scaffolding, storage cabins for boats, and paints and products for the transport of large yachts on ships.
Over the years they have achieved a number of awards and recognition, like first place in the Marina Industry Award 2018 in the Boat Moving/Dry Storage category, or the Career Award at the Dubai International Boat Show 2022.
"Naval Tecno Sud Boat Stand – concludes Roberto Spadaveccha – has worked proudly for 10 years in the most important shipyards of the world, through continuing to invest capital and resources in research and creating innovative products inspired today and always by our love and passion for the sea."