Three months until the Cannes Yachting Festival, the boat show that opens the European season
The 2022 iteration of the Cannes Yachting Festival runs from 6 to 11 September. It is the first boat show of the European season, and the first in the water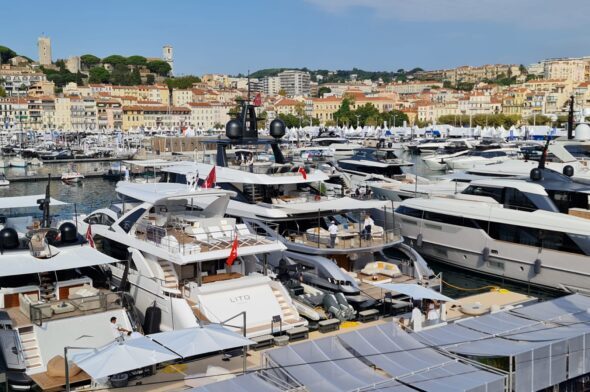 The opening event of boating season, as well as the largest in-water boat show in Europe, the Cannes Yachting Festival returns from Tuesday 6th to Sunday 11th September. From the Vieux Port to Port Canto, from one end to the other of the famous Croisette, will be presented the best of international boating from motor boats to sailboats, single and multi-hulls.
An unmissable event in the luxury boating world for 45 years, the Yachting Festival last year showcased 620 vessels and nearly 600 exhibitors, with a wide variety of products. Al the main players in the yachting industry will meet in Cannes to open the boating season and exhibit their latest goods and world premiers.
For the 2022 iteration, the Yachting Festival reveals a new visual identity, permeated by glamour, highlighting the plurality of offers and boats offered by the show: a superyacht, sailing catamaran and a dayboat.
This new creation preserves the main characteristics of the show's DNA: elegance, clean lines, calm seas, horizons and dolce vita, all inviting to sail. A new image representing a couple who have come together to share an exceptional moment in an incredible setting.
The Yachting Festival is a showcase exhibiting the treasures of the seas, highlighting unique skills and artisans of naval construction. Allowing everyone, lovers of the sea, yachters, expert visitors, or simply those who are curious, to discover a universe, in an idyllic environment, that is the emblem of the Cote d'Azur.
"We are very happy – says Sylvie Ernoult, director of the yachting festival – to reveal our new visual and to have been able to illustrate not only the richness of the Yachting Festival but also the atmosphere, which I would say is magical, of this show. A special atmosphere that exhibitors and visitors who came last year felt as much as we did. Notwithstanding a complex world health situation, it was a great pleasure for all of us to meet, and see the boats in person and not online."
2021 registered a record number of visitors with over 54 thousand who came to admire 110 new units from 10 to 35 metres in the Sailing Area, over 480 motor units from 5 to 45 in the Vieux Port, without forgetting the used vessels over 22 metres on display in the water in the Brokerage yachts Area.
In the new Innovation Area visitors were able to discover the "intelligent" start-ups in the boating industry, as well as over 50 exhibitors who presented an ecological concept thanks to the new "Green Route".
"Our objective for 2022 – nots the director of the Yachting Festival – is to enhance the event and at the same time, give more visibility to eco-responsible approaches, new technology and luxury in its most noble form."