The fifth SW96 by Southern Wind is under construction, the sailing yacht for both competition and cruising
A successful model in the wake of the performance of the previous SW96, #5 will hit the water at the end of 2023
Commissioned by a boat owner as his second boat from the South African shipyard, the fifth model of the SW96 by Southern Wind is under construction and will be delivered around the end of 2023. A personalised and high performance sailing yacht, based on a versatile platform, whose carbon fibre hull, created by Farr Yacht Design, allows for full design freedom, for both the exterior and interior, in this case both have been defined by Nauta Design.
SW96 #5, PERFORMANCE AND PERSONALISATION
This is an ideal vessel for racing and long range cruises, even though this fifth version – following on the three previous models (Sorceress, Seatius, Ammonite) which are already sailing, and another set to be delivered at the end of the year – emphasises its sporting performance. The hull and deck have been studied so as to be particularly light and, as a consequence, fast, thanks to a carbon fibre sandwich structure, internally isolated in order to reduce on board noise.
Its technical equipment, superior to that of the previous SW96s, guarantees excellent performance also in the case of light winds and ample manoeuvrability in any conditions: carbon fibre mast and boom, as well as the rigging in EC6+ carbon fibre, fixed bowsprit, a keel that can be raised (with a range between 3.4/5.5 metres), and a dual wheelhouse.
Currently undergoing lamination in Cape Town, this SW96 #5 has an aerodynamic deckhouse which brings light to the interior of the hull (as do the portholes along the sides). The deck, finished in natural teak, has two cockpits, with minimum level variations between the one for manoeuvres to the stern and the one dedicated to passengers to the bow, so as to ensure manoeuvrability while sailing.
RAISED SALOON INTERNAL CONFIGURATION
Internally, the layout developed by Nauta (in a Raised Saloon configuration) includes a full beam main living area, with a forward conversation and TV area, the owner's cabin forward, two passenger cabins to the port side one forward and one midship. The crew is housed aft, where there are two cabins, canteen, navigation area and direct access to the engine room. The latter, if the same choice is made as for the fourth SW96 (the first hybrid Southern Wind), will house a mixed diesel-electric propulsion system.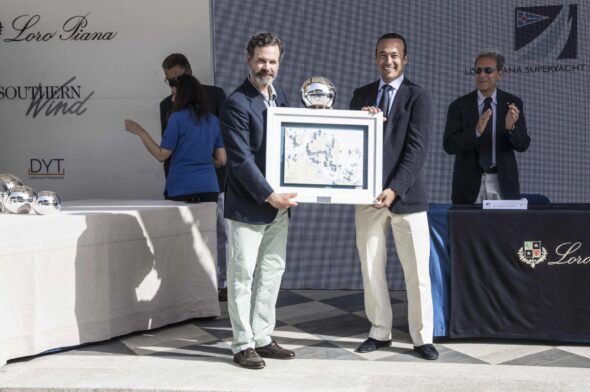 Sailing
Our interview with Andrea Micheli, Commercial Director for Southern Wind