Oriental interiors: Sanlorenzo Asia chooses Steve Leung Design Group
The Asian architect and interior designer, Steve Leung has been called to design the interiors of the yacht SX88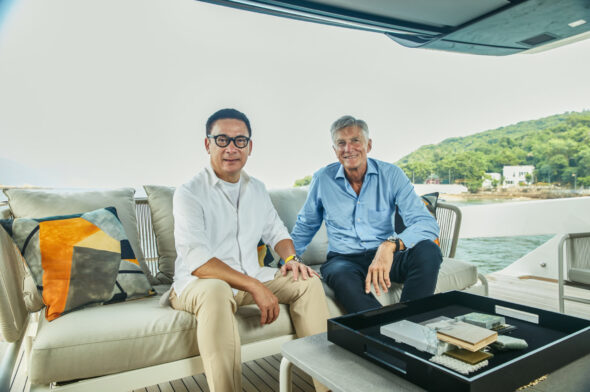 After having chosen the architect, Piero Lissoni as company art director, and a team of authoritative designers of the calibre of Rodolfo Dordoni, Citterio Viel, Patricia Urquiola, John Pawson and Christian Liagre for the interiors of their yachts, Sanlorenzo opens itself once again to design, creating a partnership with the Asian architect, Steve Leung.
With offices in Hong Kong and a number of residential designs throughout the East on his resume, the Steve Leung Design Group will work for Sanlorenzo Asia giving its own personal "Asian interpretation to life on board".
Working in the wake of his Western colleagues, he will be working in evolved customisation.  This is, yes a decision to introduce some design contamination, but is also due to the interest in the great knowledge Leung has of the Asian market, his tastes and values that make him stand out with the aim of creating styles that still have a cosmopolitan feel to them.
Sanlorenzo Asia is undergoing significant growth, due to the presence of a number of owners who love the elegant Italian style and the tailored knowledge and attention to detail, particulars that, together with research and continuing innovation, both aesthetic and volumes, make the Italian shipyard stand out. These Asian buyers have received some of the latest models of the SX76, SL102 Asymmetric, 500EXP, while, currently under construction for the Asian market, are new models of the SL96 Asymmetric  and the SD96
In 2016 the shipyard from La Spezia had already worked with Steve Leung on the design of the interior of the SL106. Now, instead, the work for Sanlorenzo Asia will concentrate on the interiors of the 'SX88, a crossover representing the union of a classic motoryacht with flybridge and an explorer.
The layout of this hull combines functionality and flexibility, thanks to the location of the wheelhouse on the upper deck and the consequent freedom in designing the main deck, completely free from bow to stern.