On board the 65 Sport Yacht, Sunseeker's "super car"
Just like a sports car, the Sunseeker 65 Sport Yacht is a concentration of class and adrenaline. We saw it at the Venice Boat Show and went on board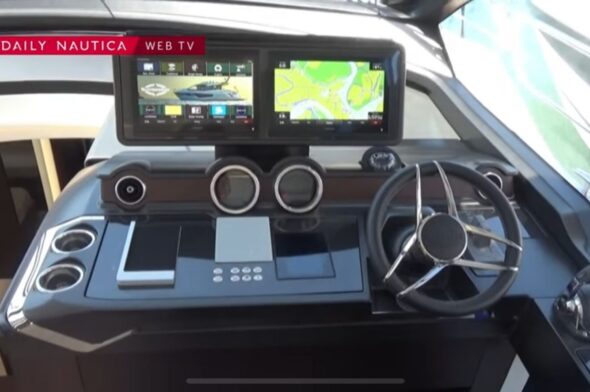 What do race cars have in common with motoryachts? Easy – luxury and the love of adrenaline. The team at Sunseeker knows this well, as the shipyard comes from the home of the sports car, England. It took some time before they came up with the formula that brought together the best of both worlds: boating and automobile. But the results achieved are stunning. The Sunseeker 65 Sport Yacht, while still keeping with some traditional concepts, has a number of innovative aspects.
Daily Nautica saw it at the Venice Boat Show and went on board.
SPORTY DRIVING WITH THE "SKYHELM"
The key element that makes this boat different is the flybridge. To be precise, the shipyard defines this area as the "Skyhelm". Indeed the name is perfect. From this location, the owner can have a 360 degree view, as if looking from above.
The bridge is made up of two comfortable seats, placed low so as to allow for racing-style driving. In the middle is the integrated console with all commands at hand. The instruments are in a glass panel with chrome quadrants and LED display.
The wheel, in carbon fibre, is easy to manoeuvre and is also inspired by race cars. Also of note is the option of raising the wheelhouse so as to drive vertically. This mode makes low speed manoeuvres easier and improves visibility even further. The seats on the bridge can also turn to face aft, and the windscreen can also be moved.
THE BEACH CLUB
Moving on to the lower deck is a large platform. Beneath it is a garage which can store a tender and a number of water toys. The floor at water level also allows to launch the tender using a new lateral sliding hydraulic wet platform, which is completely innovative for any yacht.
In this manner, if the boat owner wishes to bring the tender onto the wet platform, the freed up space can then be converted into a beach club with integrated bar and seats. In both cases, the open garage door incorporates two showers. To starboard, the glass slides easily allowing the cockpit to meld in perfectly with the interiors. On the left of the vessel is the kitchen and lunching area.
The layout, with three cabins, including a full beam owner's cabin, can accommodate up to 6 passengers. Each cabin has its own private bathroom. The innovative design has the crew cabins located forward of the garage and accessible through stairs in the cockpit. This layout is possible thanks to the installation of IPS.
The 65 Sport Yacht can reach a maximum speed of 35 knots, giving pure adrenaline, like driving a convertible, high performance car. Now enjoy the show.