Discovering cities through food. In this way the "Do eat better experience" combines food and wine and local traditions
A company from Genoa is organising guided "food tours" around 17 Italian cities and two other European countries, accompanied by local guides in discovering food tradition and more, guiding visitors through their stomachs.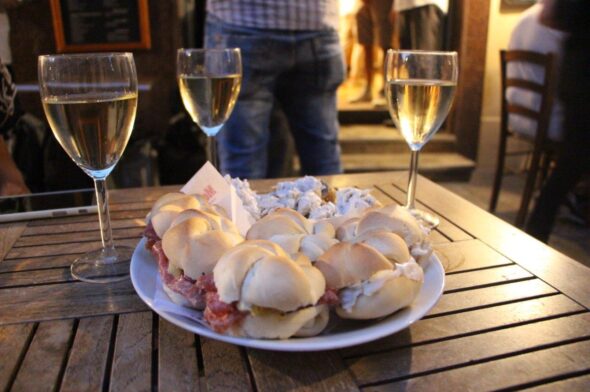 Guaranteed authentic local food with "Do Eat Better Experience" tours.
When we find ourselves visiting a city that we don't know, one of the first things we do is find out, maybe asking someone local, where we can find somewhere to "eat well without spending a fortune", possibly keeping away from tourist restaurants, privileging places still serving "authentic" food.
The answer to this question is now given by Do Eat Better Experience, a Genoese company that organises food tours in different cities (many of them in Liguria), with the aim of promoting local dishes, curios, and recipes. The formula is simple: clients book onto a tour lasting about three hours, which starts from a determined location, along with a local guide who accompanies the group to various places to taste the various local foods and, while walking shares information about living in the city.
"Do eat better experience" is already present in 17 Italian cities (Rome, Milan, Turin, Venice, Verona, Naples, Palermo, Genoa, Rapallo, La Spezia, Savona, Bergamo, Pisa, Florence, Como, Parma, Bologna). It is also possible to book a food tour in France (Bordeaux, Paris, Nice, Leon, Marseilles) and Spain (Seville, Malaga and Marbella). The number of cities is increasing in all three countries. Shortly, Bolazano, Barcelona, Aix en Provence and other towns will be added to the list.
Cities of art and more. There are also a number of seaside cities where one can enjoy a "Do eat better experience", an excellent way to spend a few hours getting to know local traditions in a more informal manner, and especially sitting at a table without any scams (or any queues), certain that you will be sitting in front of traditional and authentic dishes, while enjoying a "travelling meal" in locations far from the usual tourist areas.
"Our tours always take place in the city centres – explains Daniele Tardivelli, owner of the Do eat better experience – they last an average of 3 to 3 and a half hours and our groups go from a minimum of 2 people to a maximum of 10. The food tours we offer are proper travelling meals, meaning walking tours where you stop in different locations, at least 4, and in each one you enjoy a local dish, therefore creating a complete meal, from appetisers to dessert."
The group is always accompanied by a local expert, whose role is to accompany the group through the various stops and tell them stories and anecdotes about local food tradition, the dishes they will be eating, the recipes, etc.
"Our tours – notes Tardivelli – usually take place in English and Italian in Italy, French and English in France, and Spanish and English in Spain. We can also do most tours in French in most of the cities, and are working on making this third language a constant option."
You can book directly on the site www.doeatbetterexperience.com, via email by writing to reservations@doeatbetter.com, or by phoning +39 329-1790647.
Giuseppe Orrù