DYT Superyacht Transport takes delivery of the biggest semi-submersible ship in the world
The Yacht Servant is the biggest semi-submersible boat in the world. It was delivered to DYT Superyacht Transport by the Chinese shipyard CIMC Raffles. Its maiden voyage will be from Shanghai to Panama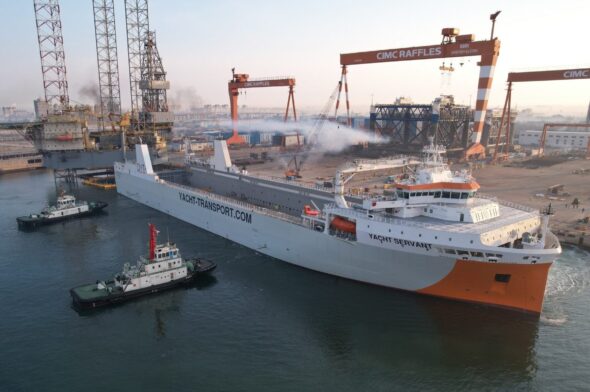 The Yacht Servant
Its name is "Yacht Servant" and it is the biggest semi-submersible boat in the world. A few days ago it was delivered to DYT Superyacht Transport, which will use it for transporting from one side of the world to the other, the biggest and most luxurious yachts belonging to owners who want their island to be a bit in the Mediterranean, a bit in the Caribbean, following the sun and good weather.
The official delivery of the Yacht Servant took place at the  Yantai CIMC Raffles Shipyard, on the Chinese peninsula of Shandong. Three days later, the ship departed on its maiden voyage from Shanghai to Panama.
With an overall length of 213.70 metres, a beam of 46 metres and a draught of 4.6 metres, Yacht Servant has nearly double the capacity of previous models of this type of ship. The ship, compliant with IMO Tier-III regulations, is also 32% more efficient for fuel consumption, while the space on its 6,380 m2 deck is 30% bigger than its twin, the Yacht Express, facilitating the transportation of more ships per crossing, including sailing yachts with deep draughts.
"We are extremely enthusiastic – said Richard Klabbers, chief executive officer for DYT Superyacht Transport – to welcome the Yacht Servant to our semi-submersible fleet. Its size and volume allow it to have much more capacity and we cannot wait to see how the additional facilities on the ship, like the onboard crane, reduced on board draught and increased submersible draught, will improve what it has to offer."
While the current ships in DYT's semi-submersible fleet require an operative water depth of around 14 metres, Yacht Servant only requires a depth of 9 metres, using an exclusive flotation system that is considered to be the safest and most effective in the world. The new special deck on the biggest semi-submersible ship in the world, located behind the deck built to hold tenders, containers and small racing vessels, also opens up a new world of practicality and flexibility for boat owners.
At the end of its maiden voyage in 2022, Yacht Servant will return to China to transport cargo to Columbia during the sailing low season, before reaching the Caribbean in May to begin working between Florida, the Caribbean and the Mediterranean.
"Last year – noted Klabbers – was a challenge for the entire transportation industry, with global blocks and uncertainty influencing travel all around the world. But our orders for 2022 are already in good health and with Yacht Servant bringing our DYT fleet up to three ships, we have begun a new, very promising year."