Studio NAMES explains the naval architecture of the two m/y Tankoa T450s
Studio NAMES by Francesco Rogantin curated the naval architecture, base design and part of the engineering, in partnership with Tankoa's technical department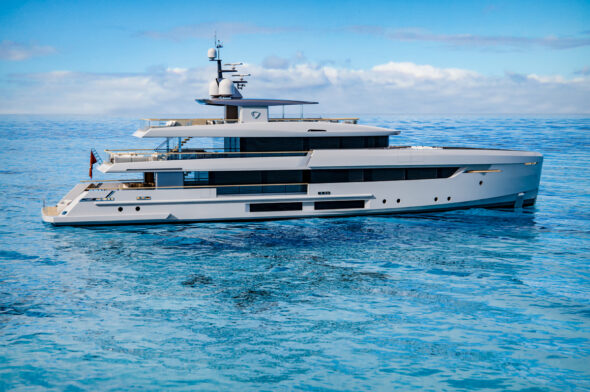 Rendering of the m/y TY T450
Studio NAMES by Francesco Rogantin explains the naval architecture of the two m/y Tankoa T450s, for which they also curated the base design and part of the engineering, in partnership with the shipyard's technical department. For the first time, the designers were asked to think up a modern Tankoa but with a traditional choice in the techniques, and, most importantly under 50 metres and less than 500 GT. A request which immediately made this a unique project for the Ligurian shipyard.
"Choosing a 45 metre – explains Francesco Rogantin – on the one hand followed the shipyard's requirements and on the other allowed us to not move too far away from the rest of the products built so far. The job given to our studio was to curate the naval architecture, the entire base design and part of the executive design, including the structure, propulsion, mechanics, and systems. A fairly simple job considering what the shipyard asked for – they wanted traditional construction with a steel hull and light alloy decks, a displacement hull with lineshaft transmission. Our efforts were therefore concentrated in optimising our skillset for the new size, making the Tankoa T450 a point of reference for vessels under 50m. The shipyard's full satisfaction and the sale of both sister ships confirms that our design worked well."
BASIN TESTING THE HULL
The hull was basin tested at the Marin shipyard in Holland, one of the best certified in the world, while the exterior and interior design were curated by Giorgio Cassetta, who was able to harmonise traditional construction with the latest trends in superyacht design.
At that point, the shipyard began manufacturing the two sister ships on spec, believing in the success of the project.  A belief which was well placed as both were sold in a fairly short period. "Fundamentally – notes Francesco Rogantin – the two yachts are identical. The main difference is in the bow area which, on the C111 is more open, while the owner of the C108 wanted it narrower with a garage for the tender."
TWIN TANKOAS
The two Tankoa T450s are 45 metres long with a maximum beam of 8,90 metres. They have a pair of 24.2 litre MAN D2862 V12 engines with an overall power of nearly 3 thousand HP, allowing the yachts to travel at 14 knots cruising speed with 4 thousand nautical miles of autonomy.
On board there will be six cabins for 12 passengers including the owner's suite, while there will be five cabins for the nine-person crew. The Tankoa T450 C111 is expected to launch in autumn 2023, while her twin, the C108 will be the year after.
TECHNICAL SPECIFICATIONS – M/Y TANKOA T450
Overall length: 45.00 m
Waterline Length: 43.62 m
Width: 8.90 m
Height: 4.05 m
Full-load draught: 2.25 m
Displacement: 410 t
Engines: 2 x 1.066 kW MAN D2862
Transmission: ZF 3355
Maximum speed: 15 knots
Cruising Speed: 14 knots
Autonomy: 4,000 nm
Stabilisers: Electric Fins
Generators: 2×116 ekW Northern Lights
Fuel tanks: 60,000 l
Fresh water tanks: 13,000 l
Passengers: 12
Crew: 9
Shipyard: Tankoa Yachts
Naval Architecture and engineering: NAMES by Francesco Rogantin
Design for exterior and interior: Giorgio Cassetta