"Rush": the new 42-metre planing yacht by Baglietto and designed by Paszkowski Design
A new launch for Baglietto: "Rush" a planing 42-metre super yacht designed by Paszkowski Design with interiors by Margherita Casprini
A return to its roots for Baglietto, who have rediscovered their iconic line of planing yachts, and have propelled them into the future with the launch of the super yacht, "Rush", an aluminium pleasure boat 42 metres long, designed by Francesco Paszkowski both for the interior and exterior, in partnership with Margherita Casprini.
The DNA of Baglietto's newest baby is enclosed in the name given to it by its owner. "Rush" is an ode to speed, performance and power. These are the elements that characterise this yacht: streamlined with a modern and aggressive look, enhanced by the dark grey colour of the hull and the use of glass surfaces on multiple levels, giving the exterior a very contemporary style.
Enhancing the captivating design is also the low, compact, hard top superstructure. The hull is completely new, high performance, designed by Plana Design, allowing the Baglietto "Rush" to reach a significant maximum speed of 28 knots, thanks to three MTU 16V 2000 M96 L engines with two external transmissions using a traditional lineshaft and central jet linear Voith transmission. The draught, limited to 2.10 metres, allows for easy navigation even in shallow areas.
Also innovative is the stern design, with a hold door opening down, so as to create a comfortable swimming platform over the water with space for sofas, while a lateral door allows for towing and launching tenders. The interior layout follows a classic flow, with the full width owner's cabin to the bow on the main deck, including a large bathroom and spacious wardrobe. A conversation area welcomes guests at the entrance to this deck, where the dining area and kitchen are also located.
The night time area is located on the lower deck and has 4 guest cabins: 2 VIP and 2 guests with separate beds. Forward on the same deck, is also the crew area with captain's cabin, dinette and three cabins with bunk beds. On the upper deck is the wheelhouse, which is directly connected to the spacious sky lounge with conversation area and cinema room. The dining table is outside, and further aft is the sun area with chairs and loungers, while a second sundeck is to the bow on the deck.
The vessel will have its world premier at the next Cannes Yachting Festival in September.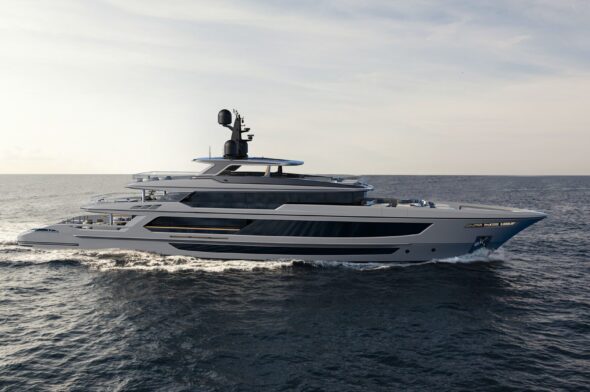 Design
The 52-metre yacht from the La Spezia shipyard is loved by its owners for its personality and liveability solutions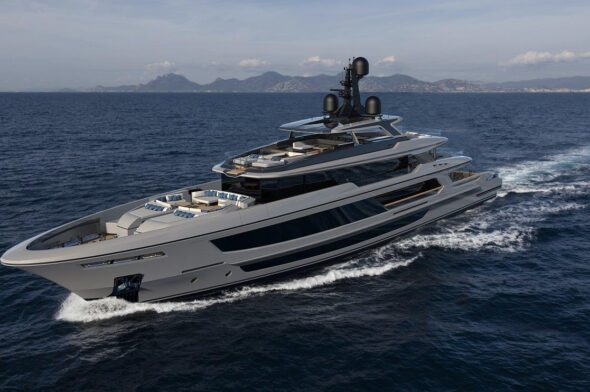 Boating Marketplace
Like a wave in continuous movement, Baglietto renews itself and restarts with a new organisation, a completely revisited range, and two new builds of 42 and 52 metres sold in the last 6 months. Our interview with the chief commercial officer, Fabio Ermetto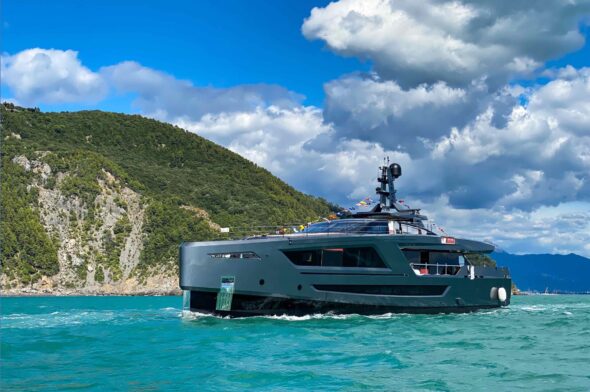 Design
Delivered to its European owner, the 40 metre aluminium vessel was designed by Francesco Paszkowski Design