Refitting according to Lurssen: "We are like surgeons performing open heart surgery"
We interviewed Alberto Perrone Da Zara, manager of Yacht Services for Lurssen, the established German shipyard famous for refitting. This is how you give a boat a new lease on life
The boat changes owner, the owner gets a new wife who wants the interior a different colour, or for "institutional" reasons like maintenance intervals where vessels need to go back to the shipyard every 5, 10 or 15 years. These are some of the main reasons for which a megayacht is refitted.
We spoke with Alberto Perrone Da Zara, manager of Yacht Services for Lurssen, the established German shipyard famous for its refits, in addition to building some of the biggest and most luxurious pleasure boats in the world, like the Octopus.
"There are 2,500 people working in the company – says Alberto Perrone Da Zara to Daily Nautica – we have eight shipyards but we also work a lot with external businesses. Our main centre for refitting is Hamburg, where we have seven basins." The manager of Yacht Services for Lurssen also explains the reasons why refitting is becoming increasingly popular. "It is because of – he explains – the increasing availability of used yachts and long wait times for a new boat.
We also spoke about environmental sustainability. "Here in Germany – notes Alberto Perrone Da Zara – environmental sustainability is taken very seriously. Twenty years ago. Lurssen built a vessel with diesel-electric propulsion and a battery pack which allowed the boat to stay in zero emission mode for many hours. In 2024 we will have the first megayacht using hydrogen cell propulsion, but we are all still far off from being truly sustainable.
Then there are also more complex operations. So complex that they can only be carried out in the shipyard that originally built the boat. Like any work done on the Octopus super yacht. "It is such a complex vessel – says Perrone Da Zara – and, luckily, it only has us to return to. Extensions are some of the most complex and complicated work, but also some of the most popular. We are like surgeons performing open heart surgery, and we are very good at it."
Video by Claudio Colombo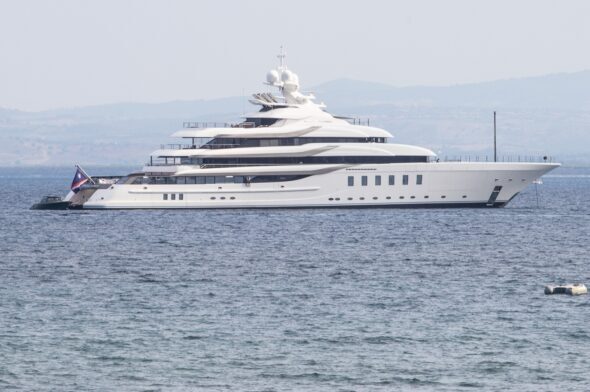 Mega yacht
Liguria Nautica found the m/y Madsummer in the waters off Porto Santo Stefano