Abramovich has given himself a new 140-metre mega yacht. The cost? Half a billion
The Russian magnate, Roman Abramovich is the owner of a new 140-metre megayacht. Its name is Solaris and the first images have been shared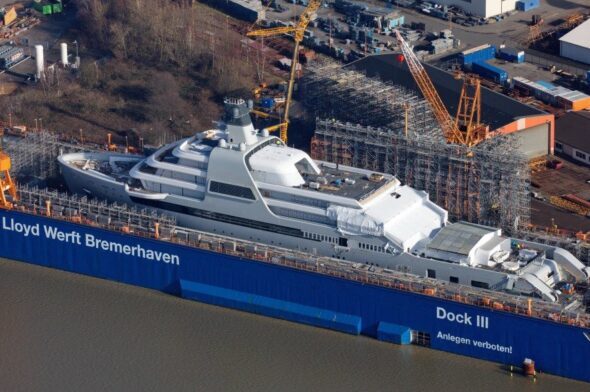 Solaris, Abramovich's new yacht, under construction
Roman Abramovich's new yacht is called Solaris. Calling it a yacht is belittling, as is calling it a mega yacht. Technically, Roman Abramovich is the new owner of a gigayacht, meaning a yacht over 100 metres.
ABRAMOVICH'S NEW YACHT
Solaris is a 140-metre long motor yacht. Building it took three years of work and, over the last few days, the first images have been released. It appears that Solaris will be able to hold up to 36 passengers (comfortably) in 48 cabins. Caring for the owner and his guests will be a crew made up of 60 people.
The vessel in which Mr Abramovich can relax in is made up of 8 decks and an internal garage capable of housing a helicopter. Built with two extra electric engines, it should be the most powerful yacht in the world for propulsion. When Chelsea's owner puts his hands to his wallet, he never skimps on expense. The cost of his new gigayacht is, indeed, around 430 million pounds, approximately 500 million euros.
WILL ABRAMOVICH'S YACHT BE THE MOST EXPENSIVE OF 2021?
Abramovich's new mega yacht is still under construction in the Lloyd Werft shipyard in Bremerhaven, Germany. During construction, the shipyard had to use a hangar bigger than Buckingham Palace. With this premise, it is very probable that Solaris will be the most expensive yacht of 2021 and, depending on taste, the most beautiful.
In order to enjoy his first cruise on board, however, Roman Abramovich will have to at least wait until the summer, which is when his new floating castle will be delivered.
Solaris has some head spinning statistics but it will certainly not become the flagship of the Abramovich "fleet" Indeed, the Russian magnate is also the owner of the megayacht, Eclipse, which is even longer, more expensive, and is home to a submarine. Eclipse is 162 metres long and can receive two helicopters, which can both land at the same time. It cost 800 million dollars and, after 7 years, underwent a 100 million dollar refit.
Video: DrDuu / Youtube
Giuseppe Orrù