Countdown for the Cannes Yachting Festival: the Croisette reveals itself to be sustainable
The Cannes 2021 Yachting Festival combines the pleasure of yachting with ecological conscience. Their philosophy is to reinvent boating to preserve the planet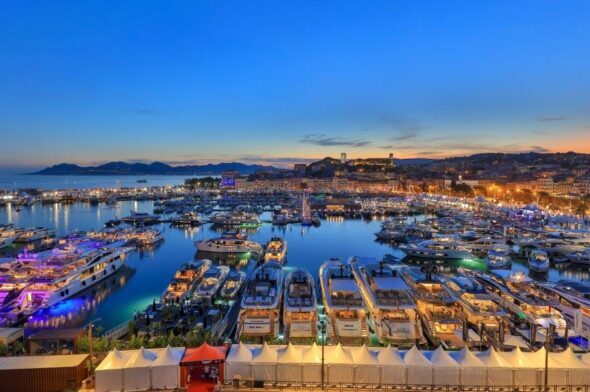 The Cannes Yachting Festival
Everything is ready for the Cannes Yachting Festival 2021, which will take place from 7 to 12 September, with its eco-sustainable edition, and its newest challenge: conciliating boating with protecting the environment.
Pleasure boating cannot escape environmental awareness. In fact, it has for a time, been promoting it, thanks to the attention for sustainability held by the shipyards in designing their yachts and mega yachts, often under the instructions of their clients directly.
For many years now, the tourist ports, the boating industry, professionals and boaters have realised the real consequences of their activity on the environment. The transition, however, is still too slow, notwithstanding the international measures put in place to protect marine environments, like hybrid propulsion, reducing sound pollution, strict regulations on anchoring areas to preserve the sea floor, and the obligation for marinas with a capacity of over 100 mooring places to reserve 1% of them for electric boats from 2022.
The Cannes Yachting Festival has therefore taken up the challenge launched on 28 July by the French Minister for the Oceans, Annick Girardin. The objective? To identify solutions to develop the industry, finding at the same time a balance between sailing in freedom and environmental conscience which is essential nowadays.
The challenge is to kick start the eco revolution in the boating industry much like what is already happening with the automobile industry. To accompany this green transition in a substantial manner, the Yachting Festival already began working on ecological solutions in 2019, with their exhibit, "Energy Observer" presenting work done on hydrogen and renewable energy showcased in the boat of the same name.
To accelerate this change, this year, the show will offer visitors a fully green itinerary: an ecological trail that will showcase exhibitors developing or presenting a project in favour of ecology. There are over 50 exhibitors, which can be recognised from the logo and the "Green Route" sign, participating in this itinerary, highlighting 80 innovative and eco-responsible vessels.
In addition, for the first time in the history of the yachting festival, the Vieux Port will host a boating area exclusively dedicated to 100% electric and hybrid vessels, with a dozen boats ranging from 8 to 12 metres in length.