The flying launch of "Planet Warrior", a new Multi 50 Class built by Persico for Fabrice Cahierc
The new trimaran, Planet Warrior, built in the Persico facility in Nembro, was transported by helicopter from Bergamo to Marina di Carrara, where it touched the water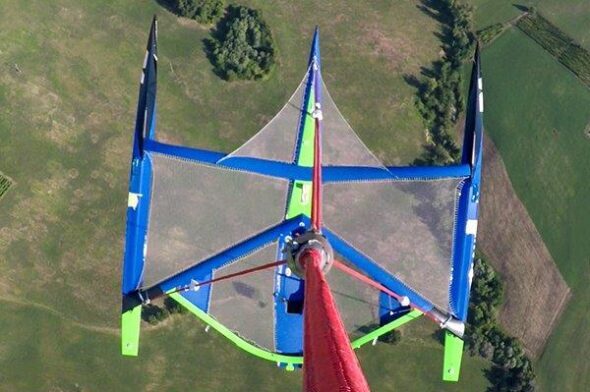 Planet Warrior in flight, carried by an AS332 helicopter
A flying launch for "Planet Warrior", a new Multi 50 Class which flew out from the Persico facility in Nembro, in the province of Bergamo, to Marina di Carrara, where it touched the sea for the first time.
The transfer operations garnered the attention of a number of passers-by, all looking up to admire the trimaran built according to Multi 50 Class regulations for the French skipper, Fabrice Cahierc. Because of its size, 15.24 metres long and a similar amount in maximum width (50 feet), Persico had to opt for air transport for its latest build.
Its 2 and a half tonnes were lifted by an AS 332 Super Puma helicopter belonging to the Swiss company,  Heliswiss International which took approximately 3 hours to get the boat to its destination. The flight was carefully planned, in particular due to the need to refuel before crossing the  Apennines. No problems were encountered.
Designed both in lines and structure by the French studio, VPLP, specialised in multihull vessels for both competition and cruising, Planet Warrior is going to reinforce the already solid transalpine class, with more and more ocean skippers working in solitary or double regattas. The class rules have been studied so as to have a high performance trimaran with contained costs, thanks to strict class regulations.
The vessel must be built in fibre glass, while carbon fibre is for the crossbeam, mast, rudder and foil. Notwithstanding these limitations, the Multi 50 is a high performance class ideal for offshore regattas with a reduced crew. For this all-French project, the skipper Fabrice Cahierc and the VPLP studio relied on the experience of the Italian yard, Persico, which built the entire vessel.
From Marina di Carrara, the boat will go to Marseilles for masting, followed by its first navigation to Brittany and the transfer to Malta, to début together with other Multi 50s for the Rolex Middle Sea Race, the classic Mediterranean race that starts and ends in La Valletta, after having circumnavigated anticlockwise around Sicily, Pantelleria and Lampedusa, for a total of 600 miles.
Planet Warrior is named after a foundation, created by Fabrice Cahierc, dedicated to protecting the Earth. Over the next three years he will collect funds to train engineers who will work without commercial ties offering free patents to develop systems capable of capturing and neutralising excess CO2. Persico was already chosen in 2017 by two well-known French skippers, Gitana and Sodebo, to build crossbeams and foils for their Ultim class maxi trimarans.
Giuseppe Orrù