Cristiano Ronaldo celebrates his Championship in Liguria: sharing all the secrets of his yacht
The forward from Juventus, Cristiano Ronaldo was sighted off the coast of Savona with his wife and children on board their yacht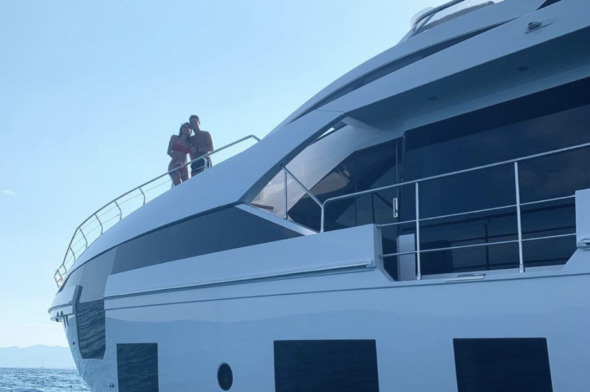 Cristiano Ronaldo celebrates his championship win in Liguria, on board his Azimut Grande. Cr7 was sighted off the coast of Savona, on board his luxurious yacht, together with his partner Georgina Rodríguez and their children. After Sunday's win over Sampdoria, which formalised his team's ninth consecutive win of the Championship trophy, the Juventus forward chose the seas in our region to relax with his family.
Disclosing that the location of their holiday was in the Ligurian sea were some photos shared by Ronaldo himself and by his partner  Georgina Rodríguez on their social media profiles. The Portuguese champion's yachts is a   27 metre Azimut Grande, with 5 cabins and 6 bathrooms, built in carbon fibre, weighing 93 tonnes. The use of carbon fibre allows for more space without added weight, guaranteeing excellence dynamic stability.
The super yacht belonging to the former Golden Ball winner is propelled by two 1,900 horsepower V12 Man engines and can reach maximum speeds of  28 knots (51,856 km/h), while the cruising speed is 24 knots (approx. 44 km/h) Tank capacity is 9,500 litres, which is enough for long crossings of the Mediterranean. Distinguishing the model are the full-length windows on both sides of the owner's cabin, with a direct view of the sea.
The listed price is 5 million, 750 thousand euros, even though Ronaldo asked to personalise certain aspects compared to the standard model. It would seem that the talented Portuguese footballer was very happy with his new yacht and is already thinking of something bigger for the future, also built by the well-known shipyard in Versilia.
TECHNICAL CHARACTERISTICS OF AZIMUT GRANDE 27
Overall length (incl. pulpit): 26.78 m (87'10")
Hull length (incl. Beach platform): 23.95 m (78'7")
Maximum width: 6.59 m (21'7")
Draught (incl. full load propellors): 1.93 m (6'4")
Displacement (full-load): 93 t (205,030 lbs)
Building Material: Carbon Fiber + GRP
Exterior styling & concept: Stefano Righini
Interior Designer: Achille Salvagni Architetti
Hull designer: P.L. AUSONIO Naval Architecture & Azimut R&D Dept.
Hull: Planar
Builder: Azimut Yachts
Engines: 2 x MAN R V12 1900 mHP
Maximum speed (proof load): up to 28 knots
Cruising speed (proof load): up to 24 knots
Fuel tanks: 9500 l (2510 US Gal)
Fresh water tanks: 2000 l (528 US Gal)