Amy Bauernschmidt, the first woman to captain an air carrier for the US Navy
Captain Amy Bauernschmidt is the first woman in history to command the "Abraham Lincoln", the nuclear-powered air carrier for the US Navy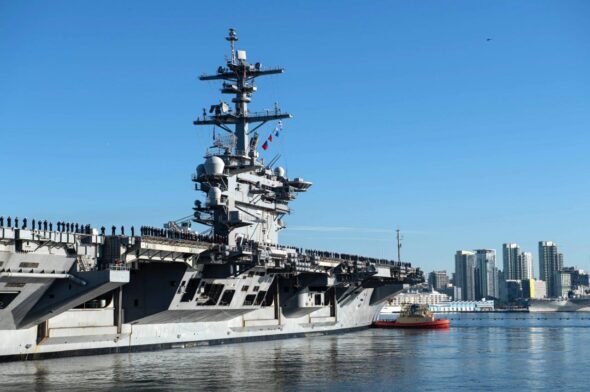 The Nimitz class USS Abraham Lincoln (CVN 72) sailing through the San Francisco Bay
Captain Amy Bauernschmidt is the first woman to command the nuclear-powered air carrier, making history in the US Navy.
Raised in Milwaukee, Wisconsin, she has been commanding the USS Abraham Lincoln since 3 January, when it departed from San Diego for the Pacific, after having taken command from her predecessor, Captain Walt Slaughter.
When opportunity knocks you have two choices: take the opportunity or let it go. Captain Amy Bauernschmidt, officer on board the Nimitz Class air carrier Abraham Lincoln (CVN 72), is the kind of person who opens the door wide and asks: "What have you got for me now?"
During National Women's History Month, Bauernschmidt took the time to share with the crew of the Lincoln her journey to becoming the first female executive officer assigned to an air carrier. "Everything goes back – she said when speaking about her mother – to something I learned early on from a very important woman in my life: never let an opportunity slip away."
In 1994, Bauernschmidt graduated from the United States Naval Academy, in oceanic engineering, when Congress abrogated the law which stopped women from serving on battle ships and planes. Her class was the first to graduate after limitations for women were dropped, about 50 days from choosing future roles. A coincidence which changed the course of her military career.
" The Navy – explained Bauernschmidt – chose to take that opportunity: they found a way to bring the women from my class on destroyers, cruisers, and battle planes. I could have made a number of different career choices, and I chose naval aviation."
The Milwaukee native's decision added to her curriculum a number of tours including the role of instructor pilot and quality guarantee officer for Helicopter Anti-Submarine Squadron Light (HSL) 41 and senior military consultant for the Office of the Secretary of State for Global Questions regarding Women.
Being chosen to captain the "Abraham Lincoln" was a big deal for the women in the US Navy, even though Bauernschmidt claims that these opportunities are within reach to anyone who works hard and does their best.
"I would say that the Navy treats women fairly and equally – added the captain – throughout my career I always felt that I was treated first as a navy officer, then as an aviator. I have been lucky in my career, but I also think a number of women serving in the Navy have been as well."
On 21 January at noon, the US Navy will also make more history regarding women. Billie J. Farrell will be the first female captain of the USS Constitution. She will take command from the current 76th captain of the ship, John Benda. As the 77th captain of the USS Constitution, Farrell will become the first female captain the ship has ever had in its 224-year history (it was built in 1797).