June sees the return of the Venice Boat Show for a "full floating experience"
The event will have a larger exhibition area both on land and water thanks to the restructuring of the two areas of the Arsenale, building N116 and the pier known as "la Nuovissima"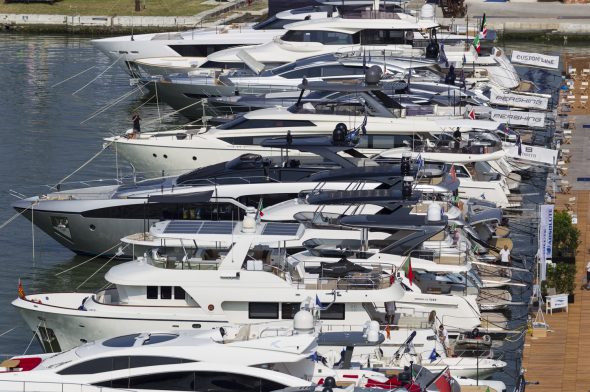 The Venice Boat Show 2019
Preparations for the second edition of the Venice Boat Show are going full steam ahead, from 3 to 7 June at the Arsenale. The success of the first edition confirms that the event is unmissable for the large shipyards, both for the high value of the city on the lagoon as well as the interest expressed from the Asian market.
Venice, a true international city, is the starting point for the route along the Croatian coast, through Montenegro and Greece, ending in Istanbul. The aim of this boat show is therefore quite different from that of others in the Mediterranean, who mostly focus on the same market and vie for leadership, pushing shipyards to continue to be present, with high costs and not always with an appropriate return.
The city also has an efficient airport and splendid locations to host events that have no equals, like the Arsenale, the ideal environment to showcase the marvel of our Italian shipyards to foreign buyers.
Last year, there were approximately 30 thousand visitors and an even higher number is expected for this edition, whose main objective is to become a "full floating experience", characterised by the presence of more sail boats, and debates centred on environmental topics and in particular on hybrid and innovative engines.
The event has also obtained ISO 20121 certification by the Bureau Veritas Italia for environmental, social and economic sustainability during its design, management and construction. Not only but the City of Venice has recently deliberated to start restructuring works for two areas of the Arsenale, building N116 and the pier known as "la Nuovissima", which will increase the exhibition area both on land and water.
In regards to side initiatives, which will highlight the cultural aspect of the event, is the return of the exhibits Design alla Tesa 113, and Mostra Internazionale di Architettura. The first exhibit, entitled "Sustainable Sailing", is presented in partnership with Fondazione Musei Civici di Venezia and is targeted at an international audience, with the aim of stimulating projects and competition in design.
The second, instead, which will take place in the surrounding area of the Arsenale (to the south), opposite the boat show area, will open to the public on 23 May and will bring a number of visitors to the city, especially those interested in design. This target area of the public has been a key point in high end pleasure boating and is a strong driver for marketing for all shipyards, because those who love art and architecture often have, in their possession, a boat for their free time. Registration for exhibitors closes on 29 February.