Boom in boating accidents in summer 2022: here's why
Why have there been so many accidents this year? We interviewed Luigi Alzona, expert in yacht insurance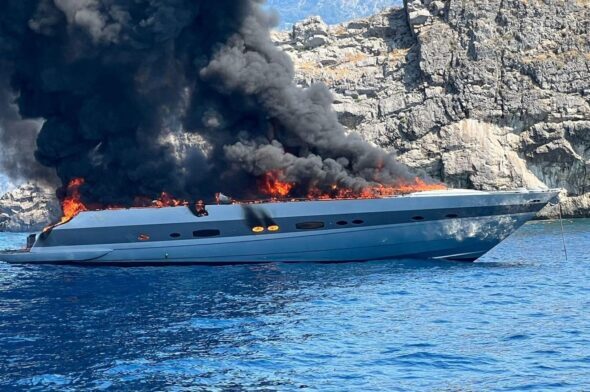 This summer, accident claims for yachts have risen significantly, and many also ended up on the front page of national newspapers. In addition to smaller boating incidents, there were also a number of megayachts involved, some a total loss.
In order to understand the possible causes for this boom in accidents, Daily Nautica interviewed Luigi Alzona, expert in yacht insurance, for twenty years manager of the Yacht Dpt for the brokering service, Cambiaso Risso Marine, and for the last few years, also a yacht consultant for owners, especially for accident management.
Why have there been so many accidents this year? Is it a coincidence, or something we have to get used to?
Without a doubt recent strong weather is a consequence of climate change, which is something we will, unfortunately, have to live with by keeping an eye on the unforeseen or the violence of certain weather. The holidays of many visitors to the Mediterranean, and in particular to the Ligurian and Tyrrhenian seas this year, have been strongly conditioned by intense weather and waterspouts which resulted in the total loss of a number of vessels. During these sudden weather changes, boaters need to be able to make immediate decisions, consulting their live feed radar images, or even using their phones. We need to know that these applications exist and use them methodically.
Costs and rescue times have risen. How come?
We have to assume that now a sailing or motor yacht, whether it be a vessel or pleasure boat, is a much more complex product than it was years ago. Electronics, for example, have certainly "facilitated" navigation but are delicate and require technical intervention by highly specialised professionals, just like the on board domotics. In addition, over the last few years, there has been a high demand in the industry, accompanied by increasingly pressing owner demands, leading the shipyards to intensify comfort on board and build increasingly technologically and aesthetically sophisticated yachts, in order to get the most out of the space.
In some vessels, the engine room is so compact that it is difficult to identify the main engines. The result is that maintenance and repairs are increasingly complex, also exacerbated by the difficulty in sourcing replacement parts and the time needed to effect the repair properly. For example, today, damage to an inverter, something that could happen at the beginning of the summer by catching a cable in the propeller, could compromise the entire summer season, if not lose it entirely.
Another increasingly frequent case are fires on board yachts, in particular motor yachts, when they are in the shipyard ready to deliver or when they are at anchor or in roads. In these cases, the cause is often attributable to a short circuit or the explosion of new concept batteries. This type of damage, compared to the past, forces owners to inevitably pay high costs to repair or replace the damaged parts, which also require many work hours, as the vessel is complex from all points of view. This does not include repainting the hulls (planking) which is one of the thorns in the side of many  a boat owner, and their insurers.
Is there something that can be done preventively?
To prevent unpleasant and unforeseen situations, I believe the only way is for an owner, whether they have a ship or pleasure boat, to carefully evaluate who they choose to take care of their goods. A boating consultant must be, obviously, a person with full background knowledge, as the boating industry is varied and requires substantial management skills, techniques and organisation. The problem lies in being able to recognise that. In particular, the consultant will have a very important role in choosing the shipyard for maintenance or repair following damage, so the valuation must be discussed with the surveyor from the insurance company so as to receive the claim payment.
It goes without saying, in the case of unusual circumstances or if the consultant does not have the technical skills necessary for the valuation, that they can use an external professional, who, thanks to their experience and preparation, can work alongside him to obtain the best result. An emblematic situation is painting the hull (planking), where only an expert in coating can evaluate the results of the entire painting cycle. The same goes for other situations needing specialised technicians.
What consequences can there be from an insurance point of view?
In the recent past, most of the insurance companies issued Hull & Machinery policies, including fire, bad weather and lighting strikes with no special restrictions. That is no longer the case now because of the number of incidents that have happened over the last 5 years, one above all being the coastal storm which took place in the Tigullio Gulf in October 2018, causing carnage to yachts of very high value, causing a number of companies to close their yachting branch following the severe losses. No less have been the accidents caused by fires and lighting strikes, increasingly frequent because of climate change. As a consequence of this, insurance companies have begun protecting themselves by applying an excess and/or overdrafts or by modifying policy clauses.
In your experience how much did being manager of the Yacht Dpt. for one of the top brokering companies help you?
It was crucial, because the experience garnered in the Yacht Dpt. is not limited just to aspects of insurance, but, by working within the yachting industry, it allowed me to understand all the satellite activities, created to give clients high quality service. This approach is what I use today, as a consultant, to allow me to dialogue and make an educated choice with the owner and the insurance surveyor.
After all, someone who purchases a yacht worth millions of euros cannot just rely on fate. And so, in case of a boating accident, the first thing to have is a handbook with the golden rules to follow, first and foremost the mobile phone number of your trusted contact, who is available even on holidays and weekends. This is something that can easily be added to a businesses card and is worth its weight in gold. Flexibility, efficiency, skill and timeliness are the 'tool box' needed for anyone working in the yachting industry.