Astra, the "reverse" compass that goes up high (or rather the ceiling)
The compasses made by Riviera Genova help follow the right path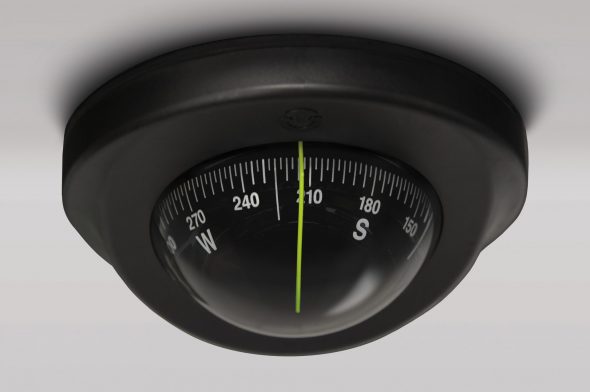 The ASTRA compass
The compass is, historically, the most important tool for navigation.  Even today, notwithstanding the use of more sophisticated electronic equipment, it represents a safe and necessary help for any sailor worth their salt.  Riviera Genova Srl, a leading company in the design and construction of boating accessories and compasses since 1976, launches on the market, Astra, the new magnetic compass created specifically to be affixed to ceiling panels.
While keeping the marine tradition unchanged with its simplicity and ease of use, the magnetic compass is still today a necessary tool for navigation, and, in some way it is a backup for any malfunction of the electronic devices used for sailing.
"Astra" is the result of years invested by the company in research and development in the specific sector regarding compasses for ships, both for pleasure and work. The objective was to create a compass with a special method of installation, capable of "freeing up space" on the bridge of ships and  yachts, filled with electronic equipment, monitors and indicators of all types.
In this sense, the company went against the requests of some shipyards, using the useful information supplied by technicians It was decided, therefore, to design a new compass, which could be positioned on the freer area of the bridge, and that would still yield excellent legibility for the device. From here came the idea for the "reverse" compass to be installed on the ceiling.
The design was developed starting from Riviera compass models with consolidated functions and making a number of improvements to refine the product.  For example, the double access system of the compass rose improves reading stability without needing balance, independently from the different magnetic areas on the earth. The internal mechanism is based on a double cardan system that neutralises the rolling and pitching movements of the vessel, so that these do not create an obstacle for the correct functioning of the compass.
The materials used are the result of 60 years of experience in the moulding of plastics, done in house, both in the nautical and automotive sectors. The transparent enclosure is in polycarbonate, a plastic which is resistant to scratches and dings.  The UV protection treatment on the enclosure guarantees it will resist against adverse effects from the sun.
The external parts are in ABS, a material which has exceptional mechanical properties as well as being resistant, guaranteeing at the same time a beautiful aesthetic.  It is also resistant to solvents, alcohol and oils and is also treated to resist over time to marine and weathering agents. The company has obtained certification for its products and its "quality control system" and highlight their constant efforts in research and reliability in manufacturing.