Volvo Penta talks to LN: "With our automatic docking yacht system and green engines we will revolutionise boating". Interview with Nicola Pomi
LN has interviewed Nicola Pomi, vice chairman of Volvo Penta Europe, presenting Assisted docking, the innovative docking system that affects the engines, and the race to create a carbon free engine by 2050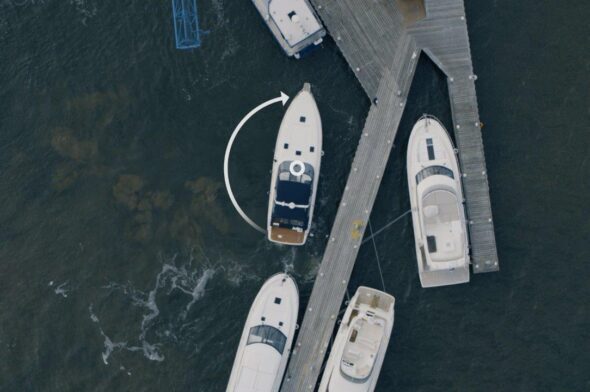 Volvo Penta's Assisted docking system
Volvo Penta is working on a self-docking yacht: it identifies the dock and, without touching anything, enters the space safely. A result that will be reached in the near future and that now can be anticipated with the innovative Assisted docking system, fully integrated with the engines and recreates the automatic parking system of an automobile, stopping coasting and turning those scenes of panic at the pier, for the entertainment of spectators, into a distant memory.
A system which has already captivated the public of the CES (Consumer Electronics Show) in Las Vegas, who nominated it among the finalist for "Engadget for the Best of CES"  in the "Transport" category. We spoke about it with Nicola Pomi, vice chairman of the sales division for Volvo Penta Europe, who also spoke to Liguria Nautica about the race for carbon free engines, a result that the CEO of the Volvo Group wants to achieve by 2050 and that, as a consequence, will also affect marine engines.
ASSISTED DOCKING THAT MAKES A YACHT SIMILAR TO A CAR
LN – Nicola Pomi, Volvo Penta's Assisted Docking System is a finalist for Engadget for the Best of CES for the Transport category. Why is it so innovative?
NP – We decided, for the first time in the history of Volvo Penta, to present this product at the CES, so a consumer show, because our Assisted Docking System helps dock a boat safely, removing one of the most stressful elements of boating: docking. This system guarantees easier and more controlled docking.
The advantage is that it's integrated and manages the engines. Many docking systems are only anti-collision systems, that warn you when you are getting too close to the pier. But in fact they do not act directly on the engines, because they are made by different manufacturers: the engine manufacturer and the electronic systems manufacturer. Instead, we have the possibility of integrating everything,and so we made a system that also controls the engines. Thanks to the control of the Dynamic Positioning System, together with Assistant docking, the yacht moves and stops immediately, stopping it from coasting, based on the joystick movements.
The boat moves exactly in the way that is decided through the control system and there is no need to reverse the engine to stop coasting. It doesn't move any more than you want it to. This offers, above all, a greater feeling of having control of the vessel, but also perfect precision. If you need to enter tight spaces, with boats to the left and right, you can enter your dock safely because you have absolute control of the boat. As soon as you let go of the joystick, the boat stops, with no coasting. This gives the feeling of having absolute control of the vessel and of tranquillity.  But above all it gives singular manoeuvrability. This is a system that recreates the movement of a car: when you brake, the car stops. It is the same with the boat.
The launch at the CES went very well, it was a great success, with public and critical acclaim. Shortly we will also organise events and will present this product on some vessels. At the moment it only works on the IPS system and will be available on the entire IPS range, from 600 hp to 1,350 hp, and will work on all vessels.
LN – Do you want to achieve a vessel that docks itself?
NP – Exactly. From a strategic point of view, Assisted docking is leading the way to automation. One of the pillars of our strategy is connected to automation and connectivity.
In 2018 at The Ocean Race, we tested automatic docking, with the boat docking itself, without the captain touching anything. We showed everyone a piece of the future: what we want to achieve. Assisted docking is part of this strategy.
There will be other steps, until we reach automated docking, meaning that the boat docks itself fully. There wasn't that much success with cars, but it might work much better with boats: you let go of the controls and it docks itself.
VOLVO WILL BECOME CARBON FREE BY 2050
LN – Environmental sustainability is something you always work on. What are your objectives in this field?
NP – The Volvo Group announced at the end of January that it will stop selling diesel engines by 2040, in order to be carbon free by 2050. The bar has been placed and this is where we have to get to, so we must also begin working on systems of a different nature.
We have two divisions: the industrial and marine. The areas of industrial application are more "simple" because there are defined usage cycles, and more advanced charging systems. In the marine field, application is more complex, above all in pleasure boating, you need to have more power. So we can't just fill the boat with batteries: you would need too many and that would make it far from ecological.
We are evaluating a number of systems. Volvo has signed an agreement for the development of fuel cells. The race has begun. But we still don't know who will have the winning system: it might be a hybrid system, an electric system, a combustion cell, we still don't know. We are evaluating all options and will soon develop some prototypes. Our guidelines are to also test these systems fist in commercial boating, with many hours of usage, to check robustness and durability. Then we move on to leisure applications, so pleasure boating, which have a softer usage.
Our CEO has identified the target and we are working very hard. When talking about combustion engines, we always talk about about diesel. There is nothing that says that combustion engines won't remain, but they may be fuelled by biodiesel or hydrogen. These possibilities have not yet been discarded, even though hydrogen currently has less power than diesel. Stocking hydrogen on a yacht is difficult, both for safety and quantity: we are talking about a value of 1 to 3. For the equivalent of one litre of diesel you need 3 litres of hydrogen, making it dangerous.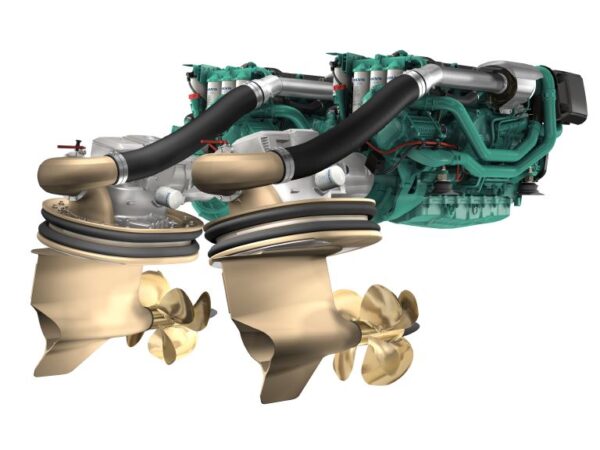 LN – Even commercial and professional boating needs green technology.
NP – We have all the solutions: we are testing them all, starting with professional fields to then move on to leisure. When we test these solutions, we are testing them with similar usage cycles. A ferry working hours and hours on end is very different from a steam boat cruising up and down the canals of Amsterdam. In this case, full electric could work, with charging stations and defined usage cycles.
For passenger boats, like fast ferries or normal ferries, at the moment we have no solutions, but we are experimenting with technology that we will then use in leisure. We are now experimenting with a diesel-electric catamaran: a combustion engine the supplies an electric generator, but still develops power. It will be a test to see if this type of application can then be used on a 30-35 metre yacht. We are working in different fields: we don't know which will win but we have to be ready for any type of scenario.
BOATING WITH LESS WASTE IS SUTAINABLE FOR EVERYONE
LN – Instead, how are pleasure boaters working for sustainability? Is it in line with how you are working?
NP – Now that is the real challenge. If you offer a pleasure boater an electric boat that costs twice as much, chances are he will keep his diesel. Also because there are no incentives or obligations. You will see a rise if there are new provisions put in place.
We know full well that a boat is a luxury item. In order to open the market we need sustainable costs. We can't imagine we will be able to sell a fully electric boat that costs double or triple the amount of a combustion engine. Being able to create a product that makes sense from an economic point is central to our plan.
It is a dual challenge: not only to find a system, but to find one that is affordable, maybe not for everyone, but enough to open up the market. All of these innovations, like electric engines, Assisted Docking today and Automatic Docking tomorrow, are in order to open the market, focusing to those who might currently be afraid to approach boating because they see it as a difficult world full of unknowns. We have to transform boating into something more accessible.
Boating of the future must keep these elements into account. We call it easy boating: simple to use, simple to maintain and upkeep the boat but also a simple price. Meaning using a boat without spending an exorbitant amount. Probably we will also change the way we sail. Maybe in the future, to have more efficient systems, we will reduce the use of combustion engines in favour of larger electric ones: we might lose some speed, but will gain something for the environment. We will probably change the way we sail: there will probably be less space for boats navigating at 50 knots, with excessive consumption.
We should return to more sustainable boating, with fewer excesses: the new generation has already been born with this input. And we will probably no longer accept to step onto a boat burning hundreds of litres per hour.
Giuseppe Orrù