The Chief Commercial Officer for the new Baglietto to LN: "From our fusion with CCN we can expect more efficiency and strength in the world market"
Like a wave in continuous movement, Baglietto renews itself and restarts with a new organisation, a completely revisited range, and two new builds of 42 and 52 metres sold in the last 6 months. Our interview with the chief commercial officer, Fabio Ermetto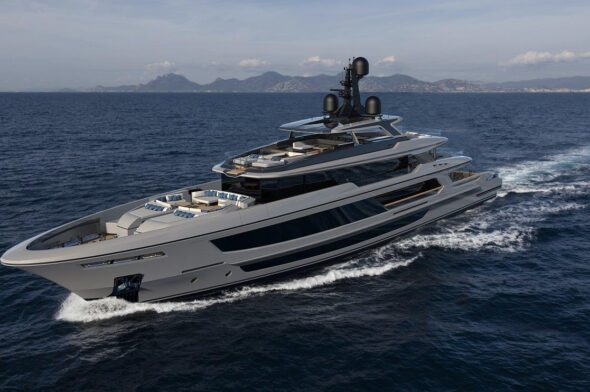 Baglietto T52
Restarting from the product, with new models and new professional roles, to relaunch a historic brand in an increasingly competitive and evolving market looking to new technology for sustainable development in the boating industry as well. This is the "Baglietto wave", a wave that will commence at the end of 2020 with the fusion of the two nautical brands belonging to the Gavio family: Baglietto and CCN. An important long term investment by Gavio, who confirms his passion and his unchanged interest in the boating industry.
Bringing forward this ambitious project was the trusted figure of the majority shareholder, Diego Michele Deprati, 57, taking on the role of CEO.  A man of great experience in the industry, Deprati had already led Baglietto during the acquisition and start-up phase of the Gavio brand, to then take the reins to relaunch the CCN brand.
A natural choice, therefore, with the objection of creating a "revolution with an eye to continuity." Working alongside Deprati, was a top team in the national and international boating industry, made up of  Fabio Ermetto, as chief commercial officer, Luca Ghirlanda, operations manager, and Guido Penco, as technical manager.
THE NEW MODELS
Ermetto will have the job of developing the new range of products with the aim of confirming the brand among the state-of-the art brands in innovation and technology, while respecting tradition. Accompanying the shipyard in this step will be Baglietto's favourite designer, Francesco Paszkowski, who, for over 20 years has interpreted its unmistakable style and soul.
There are three lines proposed: a more "traditional" displacement line, TLine,, together with two high performance, high speed and largely innovative lines: Fast and Superfast.
The TLine displacement range, in steel and aluminium, includes models from 52 to 65 metres. The shipyard has already sold the first 52 metre unit and a second one is in the planning stage, to be delivered in the spring of 2023.
BAGLIETTO T52
The T52 is a vessel that starts from Baglietto's tradition, taking on the classic style, but transferring it into a contemporary and up to date context. In particular the vessel which weighs under  500 gt, provides for important style innovation in the stern and bow areas.
Completely redesigned, the stern is open with a beach club over three levels. The large pool can be made to "disappear", thanks to a floor that moves up and down. The full height windows of the rooms contribute to keeping contact with the sea even indoors.
Of particular note is the sky lounge on the upper deck, which opens on three sides thanks to the vanishing windows. To the bow, a retractable staircase directly connects the sun deck with the upper deck, which becomes its natural extension. The yacht will come equipped standard with hybrid propulsion which will allow for the choice of more efficient navigation to reduce consumption and environmental impact.
Autonomy with diesel electric mode can, indeed, reach up to 7,600 nm, with the option of being at anchor up to 10 hours using only battery support. The two  MTU 16V2000M86  engines will allow the vessel to reach the considerable maximum speed of 17 knots and an autonomy of 3,600 nm in traditional mode.
FAST AND SUPERFAST
The Fast and Superfast range in aluminium include models from 40 to 50 metres. At the moment the design of the 48-metre fast model and 50 metre Superfast are in the advanced phase, using hydrojet propulsion. Both models will be under 500 gt.
Notwithstanding the complex period, Baglietto launched over the last 6 months four 37 to 54 metre vessels, all full custom designs using new and innovative platforms. Two new contracts have been signed: a 42 metre Fast in aluminium, designed by Francesco Paszkowski Design, and the first 52 metre TLine in steel and aluminium, both for European owners.
THE INTERVIEW
Fabio Ermetto, 49, a graduate of Naval Engineering in Holland, is a recognised and well-esteemed professional in the international boating panorama. He has carried out important roles in Italy, as CCO of the Benetti shipyard where he worked for 10 years, taking the role of president of Fraser Yachts, and abroad, where for 7 years he took on the role of Sales & Marketing Manager for the Heesen shipyard. In 2017 he became CCO for Camper & Nicholsons.
LN – Mister Ermetto, what will the the added value of this fusion be?
FE – The added value is to create a stronger company, with improved efficiency in the structure, as well as size, which will be even more effective in its presence on the market worldwide. CCN was undergoing strong development and was working on increasingly larger vessels, beginning to work on the same size as Baglietto. It was also a necessity to stop the two brands becoming competition with each other.
LN – How did the fusion come to be?
FE – We were speaking the same language, even though this was not the main reason, but one of many. We wanted a bigger and more efficient company and Baglietto, which is the more historical brand, encompassed CCN.
LN – What phases will Baglietto's relaunch go through?
FE – We are in a development phase. We are already starting with a very important and structured situation: at the moment we have 9 vessels under construction, of which at least 2 or 3 will be delivered shortly. We want to focus on the product, we are working on boats with a strong Baglietto DNA component, but at the same time, we don't want to lose the skill to build completely custom vessels, with a design made to measure for the client.
The business plan is not just to grow in volume. We are already at 4 boats a year and we don't want to grow to more than 4-5 boats a year. But it is about creating more added value for our clients and product, as well as repositioning our brand, investing even more in technology and innovation, which has always been Baglietto's strong point.
LN – What type of owner is the new T52 for?
FE – The T52 is present in a fairly wide market which is that of 50 metre vessels, just under 500 gt. The typical owner would be one coming from  vessels made fully or partially in fibreglass, wanting to move up to a larger boat but also wanting to change philosophy, moving on to construction in steel, but also wanting to customise the interiors and exterior of the layout more.
It is a boat that can travel in any part of the world, thanks to its hybrid propulsion offering a range of 7500 miles. So it attracts a wide range of clients from around the world. Currently the most active markets are the Mediterranean and America.
LN – With the T52 Baglietto is maintaining its style, making them more contemporary. A renewal which also affects the engine room using hybrid motors. Will we see the hybrid in other models?
FE – Last year we already delivered the first hybrid yacht built in Italy. We have another under construction and our idea is to promote this aspect, not only for ecological reasons but also from a comfort point of view and for flexibility in boat use.
The new T52 that we sold is hybrid, hull 2 will already start off being hybrid propulsion, like the 40 metre and other designs, which we have under construction with delivery scheduled for 2022, these already have the hybrid package as standard. Our hybrid package is not a conditional package: they are two traditional engines with the addition of the hybrid.
LN – Who are the Fast and Superfast lines targeting?
FE – These are for younger clients, but not necessarily. These are people who are used to always having fast boats, that struggle to make to move to displacement hulls, due to their lifestyle.
These are people who often use their boats for brief periods and therefore need to move quickly. They are not for people who want to go on a three-week cruise, but for weekends only. Then there is also the aesthetic aspect: fast boats are comparable to sports cars and there are clients who look for those pure lines that are difficult to find in displacement vessels.
Giuseppe Orrù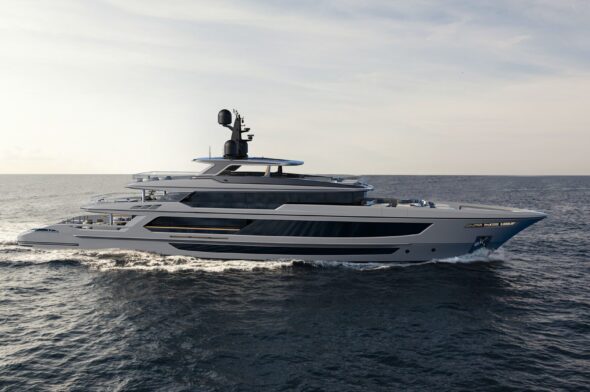 Design
The 52-metre yacht from the La Spezia shipyard is loved by its owners for its personality and liveability solutions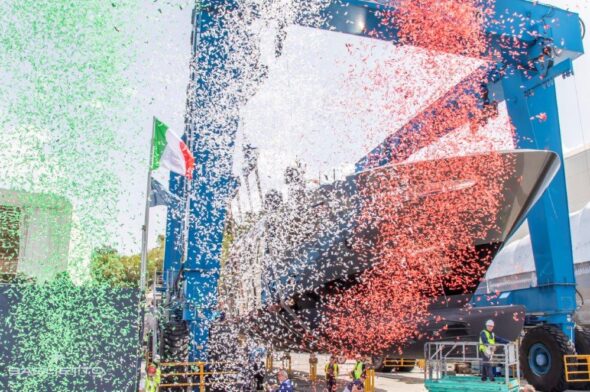 Mega yacht
A new launch for Baglietto: "Rush" a planing 42-metre super yacht designed by Paszkowski Design with interiors by Margherita Casprini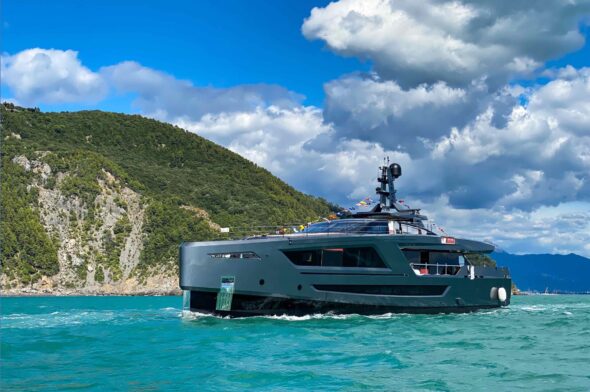 Design
Delivered to its European owner, the 40 metre aluminium vessel was designed by Francesco Paszkowski Design