SNO Marine Center to LN: "The first Magnum Marine 47.5 and 60 in Olbia by the end of the year"
Magnum Marine has chosen SNO Marine Center, with head offices in Sardinia and a branch in Monaco, as the Magnum dealer for the sale, assistance and distribution of Magnum vessels in Europe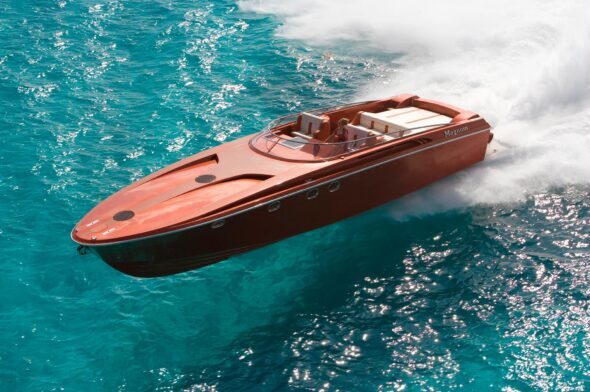 Manufacturing will remain in the United States, but European clients will need to talk to Sardinia to enjoy sailing on a legendary Magnum Marine. The American shipyard, Magnum Marine, run by Katrin Theodoli has chosen SNO Marine Center, with head offices in Olbia and a branch in Monaco, as the Magnum dealer for the sale, assistance and distribution of Magnum vessels in Europe.
The American shipyard, based in Aventura, Florida, chose the Sardinian company because SNO Marine Center has a number of branches, representative and sales offices (including Puntaldia, Portisco, Rome and Montecarlo), in addition to a wide network of dealerships through which "it will be able – writes the CEO Katrin Theodoli – to supply Magnum clients with services, storage and even spaces in a number of ports throughout the Mediterranean."
The brothers, Francesco and Andrea Pirro, owners of the Sardinian shipyard since 1988, spoke to Liguria Nautica on the phone, and told us how enthusiastic they are about working with this legendary brand.
"My brother Andrea and I – said Francesco Pirro – have grown up with the Magnum Marine brand in our hearts, and knowing Ms Katrin, we are proud to be able to work together with her. It is not a small achievement. It is something so beautiful, that we will now do our best so that this agreement works out and is satisfying for everyone."
The Olbia office will be ready to house the first vessels by the end of 2021. "By the end of the year – explained Francesco Pirro – we will have the new Magnum 47.5' in the outboard version and then we will also have the Magnum 60'." The outboard version of the new Magnum 47.5', the first model imported by SNO Marine Center, will be avaialble by the end of summer. The presentation of the vessel and availability on the market  will be simultaneous both in the United States and Europe.
All Magnum boats will still continue to be built by Magnum Marine in Aventura, Florida. The CEO, Katrin Theodoli, denied the rumours of the last few weeks, claiming that Magnum vessels would be built outside of the United States.
Magnum vessels are custom made, made to measure based on the needs of each owner. European clients can order their personalised Magnum boat, choosing from a number of options and various layouts for the cockpit and interiors. In addition, owners can choose to have the interiors they prefer built and installed in Italy, as has always been the case in previous years. SNO Marine Center will assist Magnum clients with all their specific needs.
Magnum Marine will soon organise, in addition to the traditional rally taking place in Miami, a European Magnum Rally, as soon as the pandemic eases and allows. The American shipyard hopes that the European rally will be able to take place in the summer of 2022, to invite all European Magnum owners to celebrate the end of the pandemic and the new found freedom to travel.
During this occasion, "we will also celebrate the new Magnum Marine models – announced Theodoli – the Magnum 27', recently presented, the new 47.5' and the Magnum 60', that will most probably be available in Europe at the end of 2021."
Giuseppe Orrù