The travelling adventures of a couple and their four dogs as they sail to the Arctic in their ecological sail boat
The incredible adventure of a Canadian couple and their four-legged friends began in November from Newfoundland with the aim of reaching the Arctic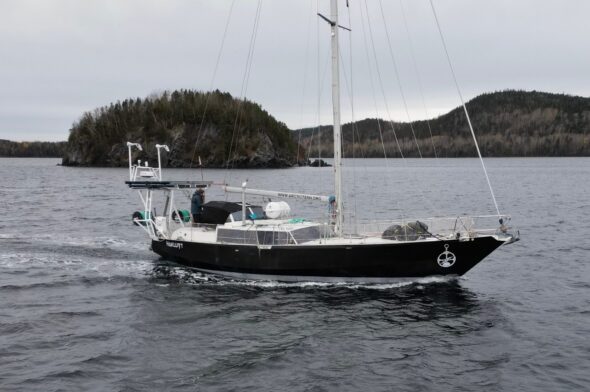 default
"Life is a great adventure, and should not be wasted." This is the motto followed by Wes Hyde and Judith Graile, a Canadian couple who have decided to embark on a very memorable experience. For the last month, Wes and Judith have been sailing to the Arctic on board their ecological sailing boat. Also participating in this intrepid voyage are another four, rather odd, crew members. The couple's four dogs who are accompanying them on the journey. Their plan will span several years and is aimed at helping raise awareness about very important environmental topics.
TRAVELLING TO THE ARCTIC
The couple began their voyage on 28 November off the coast of Newfoundland, Canada. They will first go to the Bahamas, and will then return to Canada and head to the Arctic in the spring. The aim is to raise awareness on the impact of climate change and to promote a healthy lifestyle in harmony with nature. The two partners will be living and cooking everything on board.
HAKLUYT, A MODERN AND ECOLOGICAL SAIL BOAT
At the heart of this project is their boat, Hakluyt, named after a small island in Greenland. Like its owners, the boat has already had a number of adventures. After being built in France in 1993, it was used for a polar expedition by the Belgian explorer  Dixie Dansercoer. After the EuroNav expedition in the waters of the Antarctic, the boat participated in the "Students on Ice" program. In 2011 it underwent a substantial refit.
When Wes and Judith bought it, they decided to make a small addition in order to make the vessel as ecological as possible. Now the Hakluyt is equipped with two 15 kW electric engines and fuelled using renewable energy. It is also equipped with a wind turbine and solar panels, as well as modern technology including personalised radar and electronic communications systems.
If, by any chance, the GPS satellites stop working, Hakluyt has one more tool in store, an antique astrolabe purchased by Wes in New Mexico. Unfortunately, he will have to first learn how to read Mesopotamian Arabic in order to use it… The ecological adventures of the Hakluyt can be followed through the couple's website, where it is also possible to follow the boat's movement in real time.
TECHNICAL SPECIFICATIONS – HAKLUYT
Year Built: 1993
Overall length: 14.3 m
Width: 4.5 m
Draught: 1.2 m
Mast height: 17.5 m
Foresail: 78 m2
Engines: 2 15kW electric engines
Battery Bank: LiFePo