Sailing around Italy at 91 years old: when dreams have no age limit
Mario Battilani sailed 1250 miles along the Italian coast. And he still has a dream: "In the spring I want to go to Venice with sails unfurled"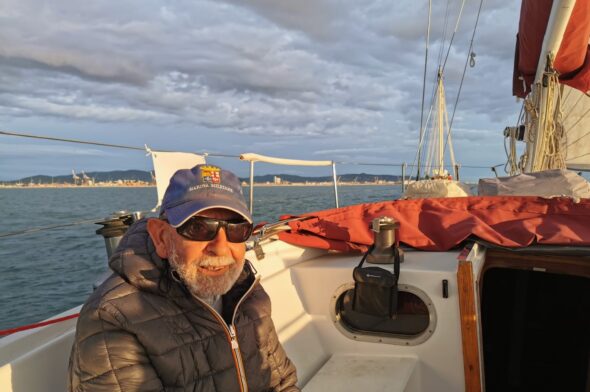 In these worrying Covid days, there has been something making sea lovers feel happy – Mario Battilani, fearless sailor, showed the entire country how, with a bit of courage and with someone believing in you, nothing is impossible, no matter how old you are.
That's right, because Mario Battilani is a young man, just 91 years old, who decided to travel 1250 miles in his sailboat. Departing on the morning of 27 September from Fezzano (Portovenere), on his boat, renamed #Forza91, in honour of his age, the voyage ended at Circolo Velico Ravennate a few days ago, after 25 days sailing along the Italian coast.
Twenty-five days of dreams and indomitable courage, at the helm of the Lumiere III, an Orca 43, 13.50 metres long, owned by his friend and travel companion, Paolo Zannini, 56. And it was just because Paolo needed a sailor to accompany him in moving the Lumiere III from the Gulf of La Spezia to the Marina in Ravenna, that this splendid adventure began.
"I'll come," offered Mario right away. Born in 1929, and long distance sailor and veteran of Caprera. A passion for sailing and the sea that has accompanied him his whole life.
91 AND 1250 MILES IN A SAILBOAT 
"We talked a lot – explains Marco Tibiletti, president of the association, La Nave di Carta – on the appropriateness of making this trip in this season. Then, Ennio, one of our members said: 'Nobody ever asks the elderly if they have any dreams. And yet they do have them, so let's help him out'.
From there they made the decision to activate, together with Lega Navale di Lerici a solidarity network to accompany Mario in his voyage. "#Forza91 – notes the president of Nave di Carta – is a strong message for everyone and regards our relationship with the elderly. Mario's generation built Italy but our society has forgotten them, made them invisible, put them to the side lines. Yet they are here, with their experience, their memories and their energy".
"It is up to us – notes Tibiletti – to step up to their side, include them and welcome them in new adventures. Anyone who sails, lovers of the seas, know the value of helping each other and of solidarity. There is a moral to this story: You are never alone at sea. We should always remember that even on land".
And so the solidarity network began. The national chairman of the  Lega Navale Italiana mobilized the local branches. On board the Lumiere III was an alternating of expert sailors, alerted by Nave di Carta and LNI, who organised themselves to help Mario and allow him to live his dream. A proper relay race. And in just a few short days, Mario's adventure became that of thousands of sailors around the country, who cheered him on through all these weeks.
MISSION ACCOMPLISHED
"I'm tired but happy – said Mario at the end of his adventure – I'm truly happy to have made it to the end.  Without all my friends, the young and not so young, who took turns with me on board, I would never have managed to live out my dream. The sea was good sometimes, but also bad. We took on water and it was windy and it was calm: this is what the sea is. You have to take what you get, without fear."
"It is fear – says Mario – that makes you old. To the other elderly I say: leave the walking stick at home, go outside, get some exercise, be with the young people, and get yourselves out there. You die more sitting in an armchair than you do at sea".  And he is the most reliable spokesperson! #Forza91 pays homage to all our grandparents so that they continue to believe in their dreams. Because dreams have no age limit and the sea welcomes all. Anyone with a bit of courage and someone who believes in them, can put themselves out there.
Just like Mario who, having finished this adventure, is ready for another one: "In the spring – he reveals –  I want to go to Venice with sails unfurled" And there are many who are ready to accompany him, because we only have one life and, as Mario says: "You can't be afraid to live!"
Maria Cristina Sabatini