Itineraries in Liguria: walking between Noli and Varigotti
One of the most beautiful villages in Italy and a magnificent seaside walk: an excursion to enjoy
If you are in the province of Savona, after maybe enjoying our previous itinerary to Castello di Monte Ursino, you could take advantage and better visit Noli, then enjoy a nice walk along the seaside of Varigotti.
IN BRIEF:
Length: approximately three hours (not including car travel).
Cost (excluding food): highway toll.
Period: autumn/spring/summer.
THE ITINERARY:
We decided to leave from Genoa and take the car to Spotorno, once we left the highway, we continued west along the coastal road. We admired the beaches of western Liguria, the white sand and gentle coastlines: in about ten minutes we reached Noli. Our itinerary between Noli and Varigotti was about to begin.
After having parked without too much trouble, the summer season was still far off along with its droves of tourists, we decided to walk into the heart of the town. The castle of Monte Ursino is a beautiful backdrop to this picturesque and fascinating place; the fort is certainly an intriguing building that merits a visit, but, having already written a long article on it, we won't go into too much detail here. The twisting narrow alleyways led us to the centre of this fascinating town, which stands out for its perfectly preserved four towers. Entering from the north, the first one we noticed was Torre Papone next to the city gate of the same name, this area is connected to the walk that leads to Castello di Monte Ursino. Continuing towards Palazzo Comunale, we could see the Torre del Comune, while, a bit further on, where four roads converge, is Torre dei Quattro Canti, the highest with its 38 metres; lastly Torre di San Giovanni located above the northern gate. Originally there were more, but some became integrated into buildings over the years, while others were destroyed and their building materials reused.
After this initial walk, about an hour into our itinerary, we decided to continue along the road leading to the cathedral. It is impossible not to take notice of the Seventeenth-century Palazzo Viale-Salvarezza, this was built on preexisting Medieval foundations by the senator of the Republic of Genoa, Antonio Viale, his descendants then gave it to the Salvarezza family: notwithstanding numerous renovations there are still the remains of some of the original decorations on the facade. Once we arrived at Cattedrale di San Pietro we decided to go in for a visit, then stopped in the large square and admired the distant walls of Castello di Monte Ursino which stood out in contrast with the blue sky on that beautiful autumn day. It is beautiful to wander through the the alleyways without a particular destination, discovering hidden corners, views, and details that surprised us here and there. It is a very intriguing town where history and the sea blend together to create a whole.
We had a coffee at Bar Splendor, a short distance from the centre, and went back to the car. This is where the second part of our itinerary began, after about an hour and forty minutes. We went back onto the Aurelia, driving past the magnificent Baia dei Saraceni, and about ten minutes later we arrived in Varigotti, a part of Finale Ligure. Greeting us here was a large expanse of sand, a crystal clear sea and a sunset straight from a fairy tale: the best way to end the day. We decided to walk along the beach for about half an hour, it was about two and a half hours from when we started, we looked for somewhere to enjoy a quick aperitif before returning to Genoa: our itinerary between Noli and Varigotti came to an end.
WHERE TO EAT
We decided to end the day with an aperitif, but there are a number of other alternatives, especially during the summer period. There are a number of pizzerias, restaurants – serving excellent fish – and trattorias with local dishes from Savona and Liguria in general.
OTHER USEFUL INFORMATION
If you would like to know more, please leave a comment below the article.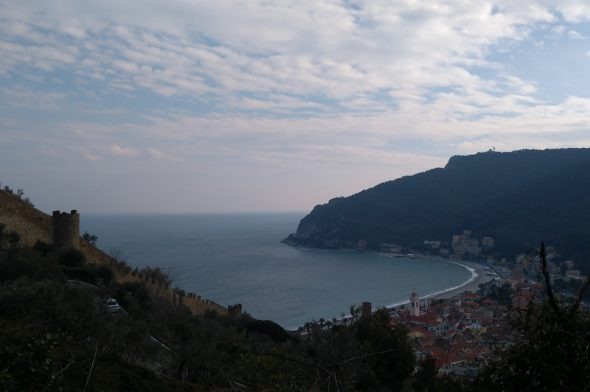 Itineraries
A stunning building just a short distance from the town Noli