Technical launch of the Maltese Falcon in the Lusben basin in Livorno
The Maltese Falcon has been given to the Lusben shipyard for an important and innovative refitting project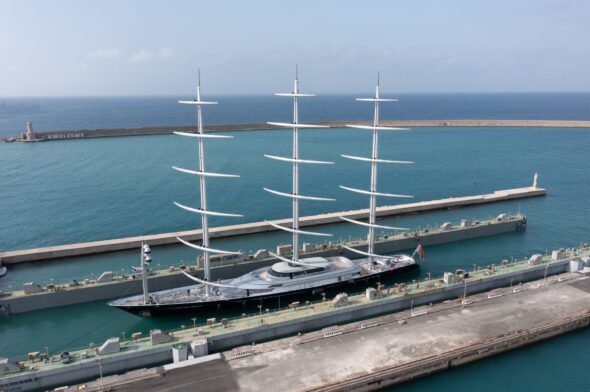 The Maltese Falcon, a splendid 88-metre sailing yacht which revolutionised sailing technology, has been given to the Lusben shipyard for an important and innovative refitting project, which required, even before beginning, considerable work in the Livorno basin. Only Lusben could have taken on such a complex job in terms of structure and equipment, seeing as the 6 metre draught and the shape of the hull made it necessary to design and build a bespoke system to drydock the vessel.
Once placed in the new floating basin, the team of professionals from the shipyard were able to begin work, which includes a long list of activities: from maintaining on board systems (generators, main engines, propellers) to working on the iconic mast moving system, which is particularly difficult due to its complexity.
Just as much work has been needed in repainting the entire hull, completely revarnished in its distinctive "Blue Perini" colour, which requires special conditions to apply due to its chemical-physical characteristics. The teak on the decks has been replaced, while the interior was renovated to offer passengers a fully equipped kitchen and an even more comfortable, elegant and welcoming night area. In addition to these works was ordinary maintenance.
Lusben managed the delicate refit, with a challenging turnaround time, leading to an improvement not only in the aesthetics and comfort, but also in sustainability, as demonstrated by the reduction in consumption and emissions achieved through the improvements made to the onboard systems.
"It wouldn't have been possible to get to the technical launch ensuring the high quality standards that we want to offer our Lusben clients – explains Gianni Paladino, Commercial Director for the shipyard – if it hadn't been for the skills of our professionals when faced with such a complex project. It was a real privilege to work on a boat like the Maltese Falcon, but my compliments go out to the entire team, coordinated by the site manager, Alessio Centelli, for the great work they have done."
"In the past – adds Pierfrancesco Cafaro, captain of the Maltese Falcon – I have had the opportunity to work with Lusben and the services they offer, so I was very happy to work with them once again. The work that we did together with their team was incredible. For us, and for the owners, working with the shipyard has meant being certain that every request would be carried out in a timely and professional manner. Thanks to Lusben, in June, we will be ready to welcome our clients on board and make their holidays unforgettable."
Having arrived at the end of October, the Maltese falcon will remain in the shipyard until the end of May, when it will be available once again to charter for different destinations.