"Boat, sweet boat": the story of the student from Cagliari who decided to live on a sail boat
For the student and sailing instructor, Marta Magnano, "you need to be brave to stay on land, not to go out to sea." And, "my only regret is not having done it sooner"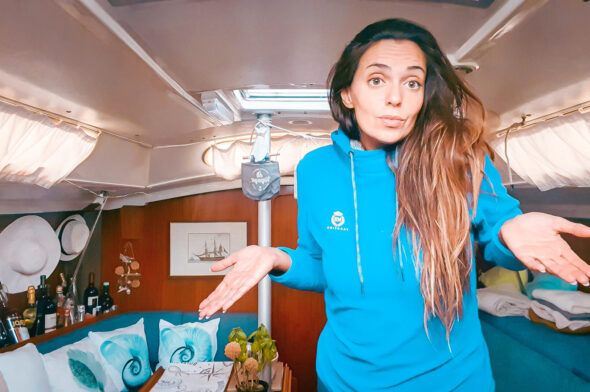 Marta Magnano is a 30 year old woman from Cagliari, a student of the Faculty of Medicine and sailing instructor. In January 2019, at the age of 28, she decided to make the leap and move onto Churingas, a 10 metre sail boat, transforming it into her "boat, sweet boat."
Now, the student charms the world by sharing, through her words and images, her life on board Churingas, together with Patè and FoisGras, her inseparable feathered friends, demonstrating, that if you truly have a passion, you can follow your dreams. Because a sail boat is not just a status symbol for the lucky few, it is a dream that can come true, within reach of everyone, and she is a perfect example!
She has a large number of followers on social media: 7601 on Facebook alone and more than 10 thousand on Instagram. Marta has now become a full on testimonial for the world of sailing. She even caught the attention of the Genoa Boat Show, which invited her to participate as a guest at the 60th edition that has just passed.
MARTA MAGNANO: A PASSION FOR SAILING FROM WHEN SHE WAS A CHILD
Marta's passion for sailing started a long time ago. It started when she was a child. Dinghies, optimists, lasers, even a few rafts built with friends. "I would do anything in order to get out to sea – she says – like many, I wanted a boat when I grew up."
An unstoppable, overwhelming desire. Marta couldn't wait. She had to absolutely make that dream come true. "First I had my final exams in secondary school – she explains – then the test for entrance into Medicine, then there was going to be my graduation, followed by my specialisation who knows where, the hard work of looking for a job that would last more than 6 months on a rolling contract, then a house, a car, stability…Too much, and too far away to wait to have my boat, it was better then, to start from the end, even if I needed to make a few sacrifices!"
And so Marta decided not to wait and "dove" into this adventure. With the money she had saved up from working as a sailing instructor, she bought, second hand, Churingas: "I only saw one boat and it was the only one I wanted – she notes – because I fell in love with her at first sight. Her name is that of a stone sacred to the Aborigines of Oceania, that they wear when sailing, just like the one Moana had, the famous Disney princess who only wanted to sail. I had watched the cartoon for the first time a few weeks before, during a particularly dark time, then my boat came into my life."
The first night Marta decided to spend on her new floating home was the night right after she signed the contract, a beautiful night, even though Churingas was still missing some comforts. "She was cold and bare – she remembers – and I only took a sleeping bag with me, and a change of clothes for the next day. Many things weren't working, including the lights, I had no heating and obviously, no hot water. But that wasn't a problem, because i had already been through similar situations but this time I was more resilient".
Indeed, a few years before, when Marta had come back from an exchange program in Germany, she had rented a low cost room. One night, when she came home, she found a surprise: the power had been cut. The previous renters had not paid the bills and the flat owners could not be reached. Demoralised, she called a close friend from Colombia, whom she had met during her exchange in Germany, for some comfort.
A NEW PERSPECTIVE ON LIFE
His words opened up a new perspective on life for Marta: "In my city – he said – there are people who have never had running water or electricity for their whole lives, and some may not even have a roof over their heads. What are you complaining about? You have a home and a future."
"He was right – said Marta – that month without electricity (it was December), believe it or not, was incredible. I had started following my natural rhythms, rhythms which we have lost nowadays. That feeling of respecting your own time and harmony with nature, is one I am reliving now that I am at sea. If there is one thing I never forget to do today is to make sure I choose the right priorities and importance for things and I know that sometimes, even with a poorer and more simple life, one becomes all the richer.
After having purchased her beloved Curingas and started her new and wonderful life living on the sea, now Marta is looking to make another dream come true: travelling the world on her sail boat. Her first step will be travelling along Italy to promote the area and, "also in this case – she explains – I will prove that it can be done with very little money".
How many readers, reading this story about the medical student with a love for sailing dream of finding her courage to leave the mainland and follow their passions with a bit of sacrifice? "They are wrong – clarifies Marta – you need to be brave to stay on land, not to go out to sea. My only regret is not having done it sooner. There are those who say that when one door closes another opens. I opened a porthole and the view is truly magnificent."
Maria Cristina Sabatini
Photos: Facebook Page – Marta Magnano Boat Sweet