The Monaco Yacht Show continues using its "seducation" approach for 2022
The Monaco Yacht Show has announced new developments in its themed exhibition areas, once again proving its desire to immerse visitors in the world of superyachting.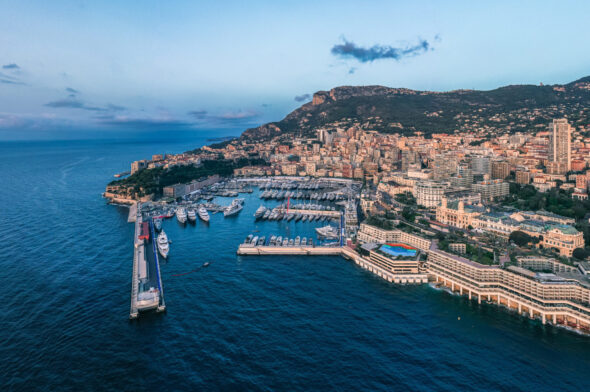 The 2022 edition is set to confirm the status of the MYS's "seducation" programme, which was launched last year. This three-year action plan is designed to attract a new generation of yachting clients, thanks to two core concepts: "education" and "seduction" (combined to create "seducation").
Education: meeting trade experts in themed exhibition areas

The themed exhibition areas have been redistributed more efficiently, making it easier for the new wave of yachting customers to meet experts in their respective fields and to discover the range of products and services on offer.
The organisers are therefore revamping the Dockside Area, the Sailing Yacht Area and the Yacht Design & Innovation Hub, all three of which were launched in 2021.
Be it in the water or on the docks, the Dockside Area features superyachts, tenders and all manner of yachting services. Visitors can meet with shipbrokers, shipyards and designers who have worked on the various yachts on display.
The Sailing Yacht Area will be moved to Quai l'Hirondelle, on the inner side of Port Hercule.
The Yacht Design & Innovation Hub – dedicated to future yacht design projects – is set to triple in size, including a 100-m² upstairs conference area.
These areas will complement the show's other themed exhibitions:
• Parvis Piscine: yacht interior design and decoration companies,
• Upper Deck Lounge (at Parvis Piscine): luxury products and services,
• Quai Antoine Ier: yacht tenders, water toys, luxury cars and motorbikes,
• Darse Sud tent: equipment manufacturers and yachting services,
• Quai Albert Ier tent: yacht-related equipment, maintenance and service companies.
The MYS has also announced the 6th iteration of the Monaco Yacht Summit. Held on Tuesday 27 September 2022 at the Monaco Yacht Club, the event will address practical questions regarding yacht chartering, buying and building in front of a qualified audience of experienced yacht owners and charterers.
Seduction: an initiation to the superyachting way of life
The Monaco Yacht Show aims to offer more comprehensive first dip into the world of superyachting. The Sapphire Experience offers concierge services – directly organising yacht visits together with exhibitors – and a range of other VIP activities and services throughout the show.
The first day of the show (Wednesday 28 September) will be invitation-only. Private clients – holding "Discover" passes – and their parties ("Advise" passes) will be granted privileged access to the Dockside Area while the other areas will remain open to all passes. From Thursday 29 September, the Dockside Area will be open to the public.
The General Manager of the MYS, Gaëlle Tallarida said: "The Monaco Yacht Show made its grand return to the international event scene in 2021, sporting a 3-year development programme with a clearly-stated goal: to promote superyachting among a new generation of clients".
Monaco Yacht Show
28 September – 01 October 2022
www.monacoyachtshow.com