Conor McGregor buys a Tecnomar for Lamborghini 63: presenting the new racer for the MMA champion
The champion, Conor McGregor shared on Instagram the photos of his new boat, made by Tecnomar together with Lamborghini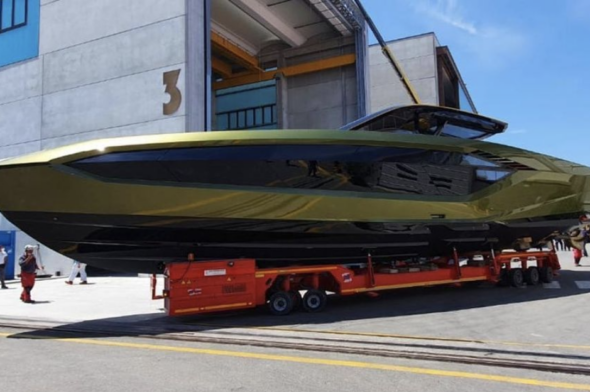 The IG photograph of Tecnomar for Lamborghini 63 posted by Conor McGregor
Conor McGregor, mixed martial arts champion, is off to conquer the seas on board his new Tecnomar for Lamborghini 63, the first motor yacht created by the automobile brand, and the result of a partnership between two excellent Italian businesses.
The Irish fighter is now a symbol of the MMA, and fights for the American Ultimate Fighting Championship federation, where he has been lightweight and featherweight champion. With his victory over Eddie Alvarez he became the first fighter in the history of the UFC to hold two world titles at the same time.
Conor McGregor is certainly not a champion who passes unobserved, just like his new yacht, the Tecnomar for Lamborghini 63 , the purchase of which was announced by the athlete himself on his Instagram profile.
THE LAMBORGHINI OF THE SEAS BY TECNOMAR YACHTS
A proper race car of the seas, 63 feet long (20 metres overall) and equipped with 4,000 HP coming from two bi-turbo diesel MAN "24 thousand" motors (24 litres).  The yacht is 5.4 metres wide, while the use of carbon fibre, a common material used in Lamborghinis, guarantees the vessel is classed as an ultralight ship, with a displacement of 24 tonnes, meaning 24,000 kg.
In full respect to the emblem on its hull, the Tecnomar for Lamborghini 63 is a missile on the water: it can reach a maximum speed of 60 knots (111 km/h) and has a cruising speed of 40 knots (75 km/h). Its autonomy is 210 nautical miles (389 km), for a total of 10 hours' sailing.
This is the fastest boat in the Tecnomar (The Italian Sea Group) fleet, and is the expression of excellence for both boating and super sport cars.
TECNOMAR FOR LAMBORGHINI 63 IS INSPIRED BY THE LAMBORGHINI SIAN
Materials, instruments, commands, seats, lights: everything is inspired by the brand's traditional automobiles, so much so that Tecnomar for Lamborghini 63 was inspired by the Lamborghini Siàn FKP 37, the super sporty hybrid characterised by its speed and dynamic lightness.
The number 63 not only represents its length in feet, but also the models created both by this sea racer and the Lamborghini SIAN. Conor McGregor is presumed to have invested around 3 million euros to purchase the Tecnomar for Lamborghini 63, now ready for him to race around the seas.
TECHNICAL SPECIFICATIONS FOR TECNOMAR FOR LAMBORGHINI 63
Bore: 128 mm
Stroke: 157 mm
Displacement: 24.24 l
Maximum Output: 1471 kw (2000 hp)
Rated Speed: 2300 rpm
Beam: 18 ft (5.4 m)
LOA: 63 ft (20.0 m)
Displacement – light ship: 24 t
Certification: RINA Cat. B
POB: 12 pax
Fresh Water Capacity: 600 l
Black Water Capacity: 500 l
Cruising Speed: 40 kn – 75 km/h
Max speed: 60 kn – 111 km/h
Range @ 40kn: 210 nm –  389 km