With Next Yacht Group, technology, glamour and research come together at the Genoa Boat Show
Next Yacht Group with its three brands: Maiora, AB Yachts and CBI Navi, will work through promoting intrinsic features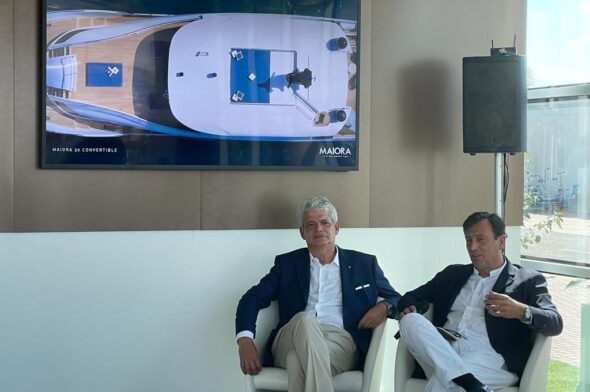 Next Group Gennaro Candida De Matteo and Marco Casamonti
Presented at the 61st Genoa Boat Show, Next Yacht Group, includes and relaunches the historic brands, Maiora, Ab Yachts and CBI Navi.
Sharing this new vision and mission for the Group was Gennaro Candida de Matteo, chief executive officer for Next, together with Marco Casamonti, professor of Architectural and Urban Design at the University of Genoa, as well as founder of Studio Archea, with its 180 architects, who is the artistic manager at Next.
Next Group wants to push the brands in a new direction, without forgetting the forty years of history which makes them stand out. The base of operations remains in Versilia, the world capital of shipbuilding, subdivided in the hubs of Viareggio and Forte dei Marmi, home of glamour and high-end fashion. However there are many important investments being made to renew the sites allowing them to create new models, and reinforcing their design and organisational structure.
Their mission has three channels: Maiora- a brand creating stylish products, dedicating its attention to liveability, giving the owner a singular, modular product; AB Yachts – helping owners experience the excitement and adrenaline of sportiveness in a safe manner; and, lastly CBI Navi – focusing on high technology in steel.
At the base of Next Group is GB Invest Holding AG, an Austrian company specialised in Information Technology and in the applicational potential of artificial intelligence. GB is the strength of the Group because it guarantees a solid entrepreneurial basis, essential for working in innovation and on the objectives set by Next. GB Invest works in the emerging sectors of hospitality and wellbeing, of which Maiora, AB Yacht and CBI Navi are a part.
Innovation, tradition, wellbeing and adrenaline are the words that the "captain" of Next is using to drive the Group forward. The message is clear: "Our mission is to make a singular end product, configuring it on the specific needs of the client, offering them a vessel which is attractive, efficient and sustainable." The key concept is therefore, personalisation.
"Boating is innovation and tradition – notes Marco Casamonti – and next embraces its different aspects: not only looking at design and modulation, but also at sustainability, ecology and consumption, to enjoy the water happily. We are looking at boats with a strong identity and personalisation."